Growing Up in Gardena
November 16, 2017
Growing up in Gardena, CA, I alway saw the problems within our own community. If I was mayor I would use my position to better the lives of the citizens living in my community. Many people in our community are low income which can contribute to hardships that people go through. I've seen these problems firsthand and if I was mayor I could improve upon these issues one by one. These problems include: not staying healthy, lack of opportunity, and crime.

In my community there not a lot of opportunities to live a healthy life. People can't afford the fresh fruits and vegetables that supermarkets make more expensive than the junk food alternative. Parents that work longer hours tend to buy what they have the quickest access to. That's usually your local fast food establishment.You can find these restaurants on every street corner where I grew up. People would rather take the cheapest quickest alternative to a healthy home-cooked meal. If I was mayor I'd start encouraging people to cook their foods at home and open farmers markets where people will be able to get farm grown foods at a reasonable price. With new opportunities to better their health at an even lower prices than junk food this will surely persuade people to eat healthier especially when it's the more affordable option.

There's also a lack opportunity within my community there aren't any prestigious schools nearby. Students don't always have the transportation even if they may have the grades. This makes it harder for people to succeed. Also a lot of parents don't know their options due to lack of research. As mayor I'd constantly make sure parents knew their options and free opportunities to do better as a student. This includes free bus transportation, youth development programs, and scholarship opportunities. We could achieve this through letters and public advertising in school and on the streets. Students and their parents/guardians will know that they have more opportunities to further their academic standing.

Crime is a problem in my community because people do not take the education seriously enough to work and they feel as if they need to make more money in order to sustain the life that they want. Depending on the way someone is raise if they have a history in the family of criminal activity that could also be a strong factor. Some people may place the importance of money above all and want quantity over how it's obtained. To fight this problem as mayor I would visit schools and speak to the students. I'd let the students know that they have options in life to better themselves in ways that don't involve crime. Spreading the word and visiting schools in person is meant to show the children of the future that I care where they end up.

We need to encourage and motivate our youth to better themselves as a person and contribute to our society. If we can show these kids that they have a shot then maybe many would not give up halfway through their young lives. These are issues that I community that are simply solved through education teaching others how to better themselves in the simple ways at home and in public will help the children of our future become better American citizens little help move our communities are cities and families forward. As mayor fixing these problem is my job but improving the lives of my people is priority.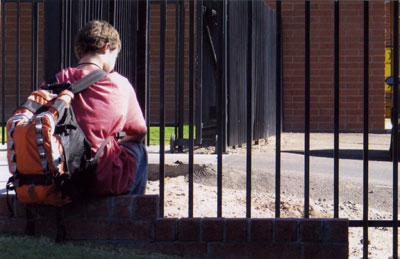 © Molly L., Phoenix, AZ