If I Were Mayor Of My Town
November 10, 2017
Every town has its flaws and imperfections, and people tend to complain about what they see as those flaws. My town, Greenwood, is a small dot on the map that no one ever gets excited over. Driving through you see old buildings that look they don't ever get used, fast food restaurants on every street, and a rusty library that no one wants to go to anymore. When you look at the library it is like a ghost town. Old, outdated, and isolated. Over the years less and less people have gone there, and the summer program they have every summer soon will shut down because of the decrease in students. It use to be a comfortable place where people will go and and have a pleasant place to do work or to get away from the world. The town next door has a library that is well taken care of and people like to go to. They have any book you can think of, a quiet reading area, and computer space. Greenwood is very well known for the football team who goes undefeated all season, but we aren't known for our public library.

If I were the mayor of my town I would rebuild the public library and make it a place everyone wants to go. I think it would benefit us because it is a place where students will want to go for some relaxation, and somewhere where they have access to a variety of books, and computers to do homework. It is a simple thing, yet very big. The library in the high school is in better shape than the public one, but it isn't somewhere people can go after school, because they will be closed. That is why it is important to have a public library that is clean, safe, and open to any hours after school and on weekends. The library is 2 stories, but upstairs seems to be off limits even though it has tons of books up there that don't get read. One story should be where books are and where the work area on the computers is and the other story should be an area with comfortable chairs, nice tables with space, and more books to read. At least 2 adults need to be working on each story prohibiting bad language and making sure things get kept neat and everything is put back into place. The library is in the center of the town and should be something other towns look at and think, "wow that is a really nice library." and they start to come and it attracts more people to the town. Greenwood isn't the place with huge attractions, or many things to do, but something important like the library, that stands out, attracts others to the library. You may ask yourself "Why is a library more important than other things?" A library grows a community in numerous ways. Many information is kept in libraries, and that information can help others start a business or go into a industry they like working in. That information educates students at an early age, and having that clean and comfortable area, they can learn all they want to.

All these ideas and how could I do it? Greenwood has many fast food places, bakeries, gas stations, and pizza places. Funding is a big deal in this, but if you cut out a few pizza places, have one bakery, cut some fast food out, and cut some of the gas stations and convenient marts out, you will have room and better funding for a bigger and better library. If I were mayor of my town I would make the library a better place and that is how I will achieve that.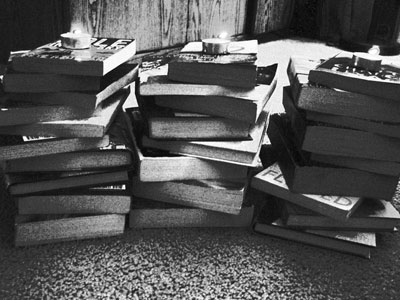 © Alexis R., Clarkdale, AZ