Puppy Mill Plague
May 2, 2017
The concept of puppy mills is one that is hard to come to terms with, especially for people who own dogs. When you toss in the idea that 2 million puppies are sold from puppy mills each year, and the fact that there is little to no enforceable legal regulation of them, it only gets more scary. Often times, people don't even know when they're buying a puppy that originates from a mill, and it's not always their fault. There are countless companies that conceal the source of the puppies they sell; after all, who's going to willingly support such a policy? Additionally, as of right now there is no legal definition of a puppy mill, so of course no business solely focused on profits is going to let their potential customers know the truth when there technically is no legal pressure to do so. It's a tragic and convoluted situation that has directly lead to not only the suffering of the animals involved, but to that of the owners as well.
First and foremost are the obvious health implications of animals bred for money. People who run puppy mills are solely focused on profits, as opposed to responsible breeders who make tangible efforts to improve their breed of choice. To be more specific, a breeder who works with great danes might be focused on improving the massive dogs' joints, as the breed is known to develop crippling arthritis. Thus, they would likely only pair dogs together that have a family history of little to no joint problems in the hopes that the resulting puppies would be healthier. Puppy mill breeders on the other hand simply have no regard for health problems that develop later in life, or even soon after they are sold. It's not uncommon for the companies involved to have replacement policies regarding the death of the animals they sell, in which case they will literally replace the animal with another. It's hard to imagine the toll that would have on a family, to grow to love a puppy for the first few months, only to watch it inexplicably die of a heart condition and then be expected to happily accept a replacement, as if a living thing were a household appliance with a defect that needed to be returned. In addition to this, due to the cruel practice of taking a puppy from its mother too soon to be able to sell it faster, the puppies develop all sorts of mental issues. Dogs weaned too soon are proven to be more anxious, fearful, resource defense aggressive, and to harbor other behavioral problems that often times lead to other types of aggression.
Due to the legal vagueness of puppy mills, there is an unprecedented amount of outright deceitful practices involved in selling these puppies. The lack of a specific definition makes it so that a pet store can come up with all sorts of official-looking papers that state none of their animals come from puppy mills, and leave them completely free of legal allegations. This, of course, is often an outright lie.
The business of puppy mills is atrocious and completely unethical, as well as inhumane. Unfortunately, there is an estimated 10,000 of them that currently operate within the US alone. Unless laws are passed prohibiting puppy mills and organizations that work to close them down are funded, it doesn't seem even slightly likely that there is an end in sight.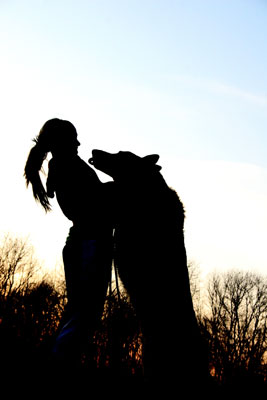 © Brittany U., Terra Alta, WV