Standardized Testing
May 1, 2017
A standardized test is a test that everyone takes with the same questions in the same type of conditions and with the same amount of time. Standardized testing does not provide the most efficient way to measure students success because they do not let students use their full potential since they are answering multiple choice questions. Students are just circling letters with the answer they think is best. This is not helping improve the current generation's education.
Standardized testing has its effects on the education system. Standardized testing is not improving the current education because of the way it is set up now. Questions with multiple choice answers is the easiest part of any test for many students because all they are doing is choosing the letter that corresponds with the answer they think is best. As mentioned in the book "Standardized Testing In Schools" by Holly Dolezalek,
""'Standardized tests are tests on which all students answer the same questions, usually in multiple-choice format, and each question has only one correct answer. They reward the ability to quickly answer superficial questions that do not require real thought. They do not measure the ability to think or create in any field.'""
In a survey conducted at Albright Middle School on May 1, 2017, which 92 people took part in, 67% of people said that standardized tests should not judge if we advance to the next grade level. Also in that same survey, a question was asked if standardized tests is worsening or improving the education system and 62% of people said that standardized tests are worsening the education system.

With the No Child Left Behind Act (NCLB), standardized testing started being used more and has affected the grades of students. Standardized tests range from Campus Common Assessment (CCA) to statewide tests. Benchmarks or District Common Assessment (DCA) and statewide tests are the ones that stress students out the most. The one's that usually end up in a student's overall average grade is DCAs and CCAs apart from classroom tests, while statewide tests determine if a student advances to the next grade level or even graduate high school.
Standardized testing has a big effect on students and teachers. Standardized testing stresses students out before the test and during the test. If a student is stressed about the test, they can perform worse than students who are not stressed. The teaching curriculum is a teach-to-the-test kind of thing right now. This lets students learn less about what actually needs to be taught and more about what was on the previous version of the test. Teachers usually just take some questions from the previous exam and use those questions has some practice questions.

Standardized testing has its respectable and unfavorable side to it. For example, before standardized testing became a substantial thing in the United States, students in math were ranked 18 worldwide and dropped to rank 27 worldwide with the use of standardized testing. Many people think that testing students annually through the 3rd-8th grade is acceptable. Many people think that this is a way to measure how much a student has learned through the years but it is a big sweepstake on a statewide test. This sweepstake test will determine if a student advances to the next level or not.

During the school year of 2016-2017, it will be the last time that states use NCLB. There was a new law for the education system named Every Student Succeeds Act (ESSA). This new law will take place during the 2017-2018 school year. Under this new law states are still required to tests students annually through the 3rd-8th grade.
Finally, tests should not be multiple choice. Answering multiple choice questions does not let a student's creativity come out. These multiple choice answers are limiting what the brain can do. A great way to replace multiple choice answers is by adding some short answer response questions on a reading test while gridables can replace a multiple choice answer on a math test. By doing this, it will help develop creativity and use the brain more often.

Overall standardized testing does not allow students to use their full potential. Standardized testing has its advantages and its disadvantages just like any other topic. Standardized tests just stress some students out and others may feel good about it. A person's feeling about standardized tests just depends on their personality if they like it or not. The United States has fallen behind other countries with the national use of standardized testing. Changing the way we test our students will improve the education of future generations.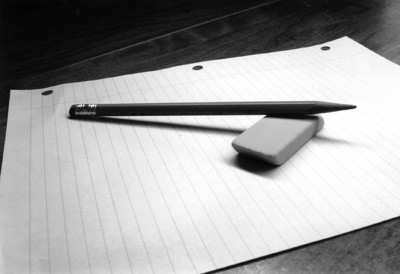 © Michael H., Mildford, CT