Modern and Abstract Art
April 27, 2017
Dots, squares, and black paintings are in the world of abstract and modern art. Most think this style of art is pointless but actually, it's unique, has expression, and can have reason without showing one. People tend to judge abstract and modern art to be futile and meaningless, so to manifest the reason for these art pieces is to create a criteria explaining the worth and purpose of one's creation.

In realistic and animated art, it's all very similar in a way because people take ideas from each other and get inspired. In abstract art, every artist has their own unique and distinct craft. An example of that is Mark Rothko's work. His pieces include limited amount of colors and rectangles that no one has done before. Each artist creates their own style and build around it. Their style doesn't have a specific way that it's suppose to look unlike most art. This is also stated by Rachel Barnes, "..artists tried to find a way of painting that did not have to follow any particular style or school of art."

Expression is very important in abstract and modern art. Artist usually create what they feel, not what they see. You can create your own thoughts, rather than someone else's. When you draw something exactly how it looks, you can't express any emotion. Most people see abstract art as pointless, but in reality, it has way more thought than realism. " Just because something causes you to have a feeling of aesthetic beauty does not make it a work of art. " (artrenewal), this is not true because there is no rule that states what is and is not art.

Art can have a meaning without showing one. When you see art pieces, you usually think about what you see which can be comparable with others, but with abstract art, each audience can find their own theories about the work. When you're not visually showing what you created, you make the audience question what it is about. Even a black canvas has a meaning, "...find something in nothing.." (tate).

A criteria for modern and abstract art has to have a rule that states that you have to have a reasoning for your art work. When you have no meaning or purpose, there is no point of making it in the first place and also proves the point of people who don't enjoy modern art. In a survey, 30/67 people thought that abstract and modern art was questionable and useless, so to help them grasp abstract art, it is crucial to have a intent. Another important rule is that it has to be original. Modern art has been known for it's unique look for each individual artist, so copying another artist's work will make modern art look like any other art styles. Last rule is to have a shock value on your audience. "Abstract art was created to have a reaction and expression on people looking at it." (catholiceducation). These rules will show that abstract and modern art isn't what most media showcase it to be.

Even though abstract and modern art can look unpleasant and low-quality, it holds sentimental thought and feelings that most can't visually see. Everyone has a different imagination and interprets abstract and modern art. Art can be in any form, even if it's just dots, squares, and black paintings.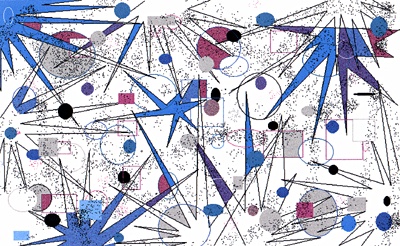 © Sierra G., Springfield, MA