It's Not Too Late
February 14, 2013
"Dost thou think, because thou art virtuous, there shall be no more cakes and ale?"
Sir Toby Belch, Twelfth Night, Act 2, Scene 3, lines 105-6

Once upon a time, to each and every one of us, a most terrible thing has happened. The expectations and pressures of our everyday lives has accumulated to a point that we have had to use a most awful response when asked out by our friends 'I'd love to but I can't.'

Insert very valid but not very jolly excuse here.

Despite this hurdle the human race has managed to still leap high enough to dodge hitting a hurdle of misery and enjoy feeling high as the sky. We have been around for millions of years and a good amount of that time has been spent perfecting the art of Celebration.

Germany, better know for Mu treats its Carnival very seriously to the point that it has been nicknamed the Fifth Season. The first day of Carnival is Women's Day. This event gives ladies the right to kiss any man on the street after they have sliced his tie off. It conveniently takes place a week before Valentine's Day. Any 18- to 25-year-olds involved make up some of the 12, 5% who were given the boot from or gave the boot to their significant other on New Year's Eve. Some may also make up the quarter who said they'd gotten into a fight on New Year's Eve. Celebrations are such paradoxes; one moment they can be a source of conflict as shown with last year's mosque bombings at Eid-al-Fitr but then we get packed parades and the men on the German streets who wait with hot drinks and half-cut ties for woman they don't even know and we decide to keep them around. The men, the beverages and the festivities.

The best portion of the celebration pie is that we have all had a taste of it. An addition of a new family member, a shining test result and the arrival of a loved one from overseas are not foreign concepts to us. The Christmas season is not just for Christians. Everyone has a birthday no matter what race, religion, country or cricket team they were born into. When a new book in a beloved series is available, the top that looked too tiny actually isn't and when the social faux pas is turns out to be a victory are all joyous moments. We've all danced for joy even if the only thing in said celebratory dance that could be celebrated is the enthusiasm.

Celebrations are eternal. And they seem to only be improving with time. The happiness that accompanies a good celebration is described best in Florence and the Machine's Dog Days are Over 'Happiness hit her like a train on a track. Coming towards her stuck still no turning back'. Let us listen a little to Sir Toby Belch. Bring out the cakes and ale whether attending Mardi gras in New Orleans, Chinese New Year in Manhattan or a picnic. Best add a bit of virtue, though, and make the ale ginger beer. If you wish to remember the fun.

Now if you'll excuse me I need to celebrate submitting my second piece of work to TeenInk and surviving Valentine's Day as a single Pringle.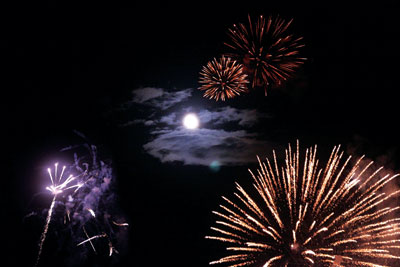 © Meena K., Groton, MA