I Care
February 8, 2013
I care about people. I do not want to read about a nothing person that has been driven into the arms of a permanent solution to a temporary problem.

My philosophies concerning aspects of life are unique because I care about people.

My ears are open, my mouth is shut, my heart is listening, and I truly hear what people say because I care about people.

Everyday I am forced to watch as people drag themselves through another day full of hardships that can only be understood by them and God. I care about people. I want to help. I am only one person. That is not an excuse, that is a fact. I cannot, despite my strongest efforts, help everyone that needs it. I cannot hear the story of every narrator that has a story in need of an eager audience. I cannot dress every wound left by the sharp words of hateful intentions. I long to utilize the opportunity to be active around issues that are important to be such as the bullying issues that are prevalent in my school.

I care about people. I hope to lead others down a path that will result in more people like this. I have learned that people are people and problems are problems. People need a helping hand. Problems need a calculated solution. People may have problems but people are never problems. I believe that everyone deserves the opportunity to learn something new, experience something that is personally exotic, and, most importantly, do something they never thought they were capable of. I have come to realize that being in a leadership role does not mean you know more than those you lead; being a leader means you have an understanding and willingness to "learn" so that others can "know".

I care about people. I worry that the solemn faces I see everyday might be just one word away from the bottom of a pit filled to the brim with hopelessness that is suffocating them so that they will never get out because they cannot see the point in being.

I want to take the first step in leading people into the light of what it means to be a human being. I want to help people realize that people are people and problems are problems. We are all aware that we are on a path towards what we want to be; a path towards our dreams and goals. As we walk we are hoping for a virtually smooth stroll. Yet, much like the side walk in our neighborhoods, there are obstacles that we will have to face and maneuver through. As we walk along our "sidewalk" we will begin to make the biggest mistake possible; we will begin to view people as obstacles. Just like in everyday life, everyone walks at a difference pace, with a different stroll, with a different pop in their step, but when we come upon people that are not taking our pace on what we see as our "sidewalk", we become frustrated and view them as obstacles we must overcome; inconveniences in our journey. I want to help people realize that these people that they have devalued are just like them, strolling along towards their goals, dealing with the same things they deal with, not an overgrown weed on their "sidewalk."

I care about people. I want to help people to open their hearts and minds so that they can better understand people. I want to lead people towards a thinking that could benefit and changed the selfish nature of the 21st century society. I want to change the way people look at people. I want to help people see that everyone around them is like them. They have feelings, goals, dreams, families, loves, heartbreaks, loses, and needs. I want to take this opportunity to stand firmly for something that I strongly see as a problem in our society, and I want to change it. I want to show people that common is not synonymous with right.

I care about people and I want to make a difference.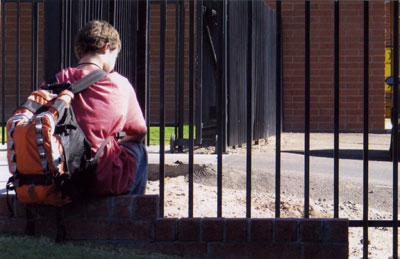 © Molly L., Phoenix, AZ