Reflections: A Dignified World?
October 12, 2012
What is dignity? You would probably be thinking: regard, self-esteem, pride and honour. Yes, it does have these immediate meanings, but dignity is something far beyond. In fact, I believe that a mere knowledge of its meaning does not make you dignified, but the observance of some vital principles laid down but this golden phenomenon is the ultimate ticket.

Dignity, you see, is never bowing your head and never giving up. Now I do not mean it is arrogance, but rather it is the will power, positive energy and regard within you, that is, regard for your feelings, personality, your country, heroes, language, family, friends and, generally, regard for the whole of humanity. It is a most supreme virtue which embellishes one's personality in a most beautiful way; this phenomenon is perhaps too fragile, yet its strength is beyond bounds. Dignity is much like freedom. A life without liberty is not a life at all, and so we can say that a life without dignity is not a human life at all. Why did I stress human? Because the only difference between a human and a beast is that we have wisdom, compared to their ill-senses. We can differ between right and wrong, we know the value of our fellow beings, when animals are barbaric, and we feel what our fellows feel and help them. Animals fight savagely for their territories, but we stand at the face of troubles, shielding the soil which has been fed with the blood of our martyrs. Dignity stresses all these ethics. In making your own self dignified, you do a great deal of goodness to your society. When one realizes his responsibilities and duties as a part of a global community, they strive to make it a better place for themselves, their children and their loved ones; they try to play a positive part in the development to attain collective benefit, and to maintain peace when there is war, to spread love when there is hatred and to speak the truth when the world is woven in falsehood. This brings them a worthy present – leadership – through which they rally all others for the similar cause. Dignity lies in how you see and feel for another person, who can belong to any race, creed, country or belief. If you will remain tolerant and pass a smile, you are already in the highest order of dignity!

However, unfortunately, today we live in a society which celebrates the Dignity Day, but never actually knows what it is! A society which loves to drain larger-then-life sums of money when competing for luxurious apartments, brash lifestyles, modest designer clothing and all the other delicacies of life, which, when told the latest turmoil the heartland is facing, wrinkles in boredom and says, ' It happens everyday!' No, it does not happen everyday, but every second, every split-second. Every split-second does someone somewhere in the world mourns over the death of their loved one, maybe due to a terrorist attack, or epidemic, hunger or maybe with just the burdens of a life which has totally turned a cold shoulder towards him. We watch such scenes with the eyes of a camera and only grimace at it, 'We can't do something, can we?'

Now here, dear fellows, we are totally wrong. Have you forgotten that the first step towards change is our own and is usually the hardest? I do not ask you to tear out lungs yelling lectures in gatherings and attend political meetings and debates which, as anticipated, lead nowhere. I only say: seek into yourself. Look at who you are, why were you sent to this world, and that the same blood runs through your veins as those painful souls. You could be that ten-year-old girl who drags her fragile bony-structure across twisted alleys and streets in a busy city, squeezing the last droplets of her draining energy, to let out a muffled call for help, food and shelter; who doubts even her next breath and is unsure of the future (if there is) that awaits her. What would you feel when you would see people around you having primetimes in expensive cars and throwing away bits of their scrumptious meals in a slapdash fashion, but never lending a helping hand? So, bearing in your heart this thought, vow along with me that together, we will revolutionize at least our own self, and play the effective role we were destined to! Summing up, I will only say:

D is for all souls held Dear,
I is integrity, sincerity, forbear.
G is Giving all you have,
N is Nationalism and saluting your flag.
I is knowing the Importance of honour,
T is Trusting every commoner,
Y is You, me and all
Dignified and united, we shan't ever fall!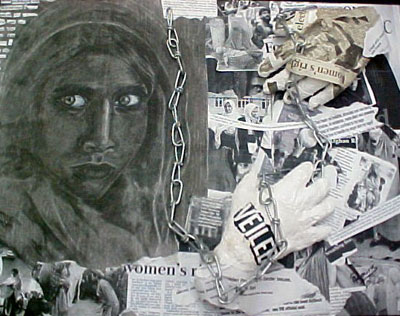 © Poornima P., Cutchogue, NY