Money Out the Window
October 4, 2012
Money out the Window


You never know how expensive life can be until that one day, you're stuck paying someone else's bill.

I was about seven years old when it happened. It was hard for me to understand at such a young age. Now that I am older, I can see it clearly, but it makes me wish I was naive again.

I was watching TV when all of a sudden, I heard my mom yelling in our backyard. Usually, her voice is very tender, like a cat's purr while taking a nap. Now, the cat was awake and she was on a rampage. I tried to cover my ears so I wasn't able to hear the guilt. It didn't work. I could still hear her sadness, anger, and disgrace. I could even hear the tears running down her cheek as if it were a waterfall.

"What's going on?" I thought. Every minute, she was getting louder and louder to the point when I though she was going to explode as if you throw a grenade by her. Now, I was scared! I was even more scared to know why she was yelling, and who was she yelling at. Even though I was scared, I had to find out what was going on.
I was taking tiny, slow steps to the window so I could see the action. When I got there, I saw my mom, shaking our neighbor's fence, yelling at them. I pressed my face against the window so I could hear what she was saying. I still remember the words, even today, "You stole our money! It's all gone! All of it! You were our friends! We trusted you! How can I tell my children what you did?"
There was nothing to tell because I had heard every single word she said. Can it be true? Did people we trust the most really steal our money? How much? Will it affect our lives forever?
I back away from the window, but it is so hard because every step I take, the guilt in my questions keeps on trying to pull me forward. For weeks, maybe even months, I try to figure out what she is talking about, and where exactly the money had gone.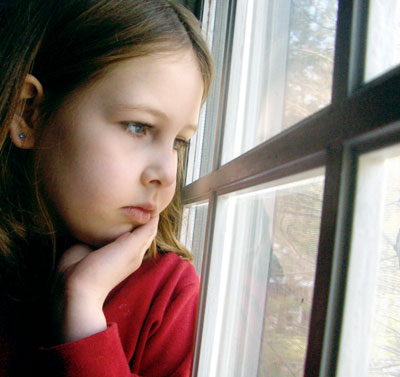 © Dana D., Gansevoort, NY