Cogs in the Corporate World
MAG
June 23, 2012
What has happened to education? Where are the days when school was a treasured gift, a privilege; when learning was a gift in its own right? Those days have slowly but surely disappeared, as over the years, education has become less and less about expanding our horizons, and more about mindlessly programming ourselves to take our place as cogs in the corporate machine. Money is the greatest evil to our education system; it built the ­machine and corroded the foundations of learning at the same time. And it has gotten to the point where we no longer can tell the difference between our own ambitions and the schemes of the system. The New York Times ­article, "The True Cost of High School Dropouts," proves to us how money has forced the real ideals of education into the background; and authors Henry M. Levin and Cecilia E. Rouse perfectly (or perhaps horribly) exemplify the sadly paradoxical mentality of American society toward its own education system.

Levin and Rouse argue that our greatest priority in repairing our ­education system should be to lower the rate of high school dropouts, "Only 21 states require students to ­attend high school until they graduate or turn 18." These pointedly unsoftened words sound rather accusatory; and coupled with the comparisons to other higher-achieving nations, they create the perfect mixture of defensiveness and patriotic competition to make us open to any solution the ­authors may have to fix our newly-­realized inferiority.

They follow up perfectly by building their argument around that competitive patriotism. In explaining why we need lower high school dropout rates, they argue, "We continue to fall behind. Educated workers are the basis of economic growth." The rest of their argument is based on the idea that more college education equals a better economy which equals a stronger nation.

And therein lies the problem. The fact that Levin and Rouse are able to logically convince us that the true cost of high school dropouts is a less-than-completely-dominant economy, shows how sadly overrun the real ideals of education are in this country. They, like the rest of America, have fallen into the trap of having the right idea on what to fix with our schools, but for all the wrong reasons. At one point, they state that the relief programs "sound expensive" but in fact the costs of inaction are far greater. This is true, of course. High school dropout rates are terrible and saddening; all those kids are deprived of the chance to learn more; the chance to learn things that could have easily changed who they are and how they see life. But there is no mention of that cost in Levin and Rouse's article; no, they think only of the economic kickback. "Educated workers are the basis of economic growth." By this common view, education is seen only as a commodity for corporate interest. No one cares about the students; only the numbers they represent, and the money they generate.

This mindset becomes increasingly apparent with "If we could reduce the current number of drop-outs by just half, we would yield almost 700,000 new graduates a year, and it would more than pay for itself." Apparently we put kids through school only if we think they will eventually "pay us back" by appropriately sacrificing their lives to corporate America. They almost directly call students "investments." We are never expected to learn for its own sake anymore, or our own personal betterment. We are expected to learn in order to get a good job and make a lot of money and revitalize the economy.

And the sad thing is, with this ­theory of education (which has become so embedded in our society that we all accept it as, really, the only theory of education) we seem to think that expectation is natural. At one point, Levin and Rouse comment, "increased education does, indeed, improve skill levels and help individuals to lead healthier and more productive lives." With this line and the others that basically called students "financial assets," it's hard not to believe that they see "healthy and productive" as "healthy enough to work for us."

We are raised in a society where money really means everything; nothing is possible without it these days, so we are taught to lead our lives ­according to how we may have the greatest chance of making money. That's just the way things are; and that's why I don't really hold it against Rouse and Levin personally, because they are really just trying to help people in a world where we are all trapped in a system that most of us hate; a system that seems to work against a man, rather than give him opportunity for fulfillment.

Capitalism certainly has destroyed what education should be in this country, and has corrupted the nature of learning to suit its purposes. So I don't blame this country when it calls me an investment, rather than a student; or an asset, rather than a person. I don't blame them because I know we are all trapped by the same cell bars; but I know how sad it makes me, when I think of all the dreams I compromise to keep them there – hoping to be let out for good behavior.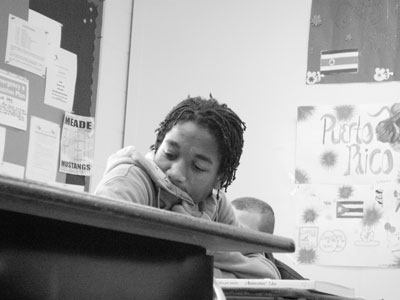 © Demetrius A., Ft. Meade, MD