Does Technology Make People Less Intelligent?
June 6, 2012
Technology has made great advances in recent years. The first computer built for general use was the ENIAC, with less than 20 MHz. It cost 6 million dollars to produce and was used constantly for 8 years. Today, people are able to purchase mobile handhelds weighing less than a third of a pound, but with 50x the power for $200. People are able to be constantly connected to vast pools of information for virtually no cost. With all of these options available, people are finding it more and more difficult to motivate themselves into putting the effort forward. People are able to get results that are very close to the results of those who attempt to do and learn things themselves.

There are many areas where people simply give up at doing things themselves. For simple addition problems people will often whip out their phones to use the calculators on them. It simply requires less effort than doing it themselves. Calculators get more and more powerful and can do more and more complicated things. Online applications like Wolfram Alpha can solve many problems that you type into them. An individual has the choice between spending hours memorizing complex equations and large amounts of information, or they could simply type their question into Google and let either some more driven individual or a computer answer their questions for them. When they are assessed on the quality of their work, it often turns out to be nearly impossible to differentiate between.

Students who are 'short on time' or simply want more time for relaxation can often get by on reading Sparknotes or Cliff notes without their teachers noticing. I know several students in Enriched English who claim to have never read a book in their life, yet they still are able to achieve high grades. Unless the teacher quite literally checks that none of the methods in which they use to check reading and comprehension are on these sources, students can easily pass aforementioned checks. Even if the educators do ensure that none of the content is on the cites, students can often figure out the answers either from their friends who have read the book or by using logic and deduction. While logic and deduction are certainly things that are to be encouraged in schools and universities, it should not be at the expense of other learning. The students should make it a priority to finish the reading selections, even if they are unable to meet all of the deadlines due to complications. This could be a reason why essays are so heavily weighted in English classes, as educators have their own methods to ensure that students cannot plagiarize, as sites like turnitin.com and WriteCheck.

Other classes that are not so subjective are suffering as well. Students can easily cheat with a simple phone beneath the desk or the likes. Such actions are very beneficial in the short term view, but are detrimental as time goes on. They become unable to perform more basic operations, and as time stretches on, the ability for technology to be used to cheat diminishes. The people either catch up to those who were doing things the more traditional way, or fall behind. However, as this eventually becomes a null factor, one cannot attribute any perceived lack of intelligence to this for older individuals. While the first age of students growing up with smartphones have not become leaders of society yet, it is largely safe to assume that it does not make someone necessarily less intelligent, it simply inhibits them from learning work ethic while in the education system.

However, other things are not limited to students. Social networking sites often draw hours of time both from adulescents as well as adults. There are sites like Reddit where people quite frankly talk about how much of their time the site has wasted. They do this so that other members may spend their time reading about how others waste their time. The members literally boast about how they have been unable to be productive at their jobs because they spend their time browsing the internet. These sites make people unable to work. My proposition is that technology does not slow the mind in any way, but instead make people lose their work ethic. Therefore they appear less intelligent.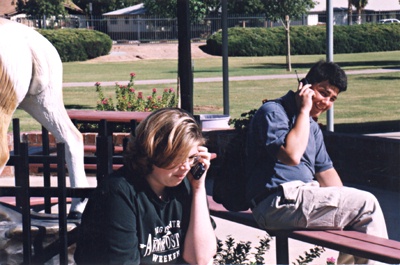 © Brandi M., Litchfield Park, AZ