Closed Doors
September 11, 2011
Closed doors do make people creative. A quote from an excerpt once stated that closed doors make us creative. It says that obstacles and restrictions are necessary, for without them we would never be forced to come up with new solutions. But for some reason, sometimes closed doors prevent people from reaching their full creative potential.

I personally believe that closed doors or putting stress on someone will make them think outside the box and will make them think so that they can overcome obstacles and other worries. Sometimes, if there is too many closed doors and too much stress, it will lower the person's self-esteem and the person will eventually give up on everything, sometimes even themselves.

When people think about closed doors and stress, in the beginning they feel that oh goodness, what am I going to do about this? After spending more time with this situation, they begin to develop a natural sense that if they need to get out of this position, they would need to do something more creative. Something better. Something that will not only make him/herself happy but the social public also.

When the pressure gets really high, as I listed above, people tend to give up on themselves. Basic human psychology and depression states that when people give up on themselves and think they are worthless and no more, they are concerning their life. This is a big thing, and can lead to sadness, depression, and eventually suicide. This is why applying some pressure on someone is okay but when they get uncomfortable, stop because it may concern more of their self-esteem.

Beyond all of this and in reality, people have invented great things, found amazing solutions, and done spectacular feats by having closed doors. It all started with for example Thomas Edison. People needed a form of light when the sun and natural resources were done. With these closed doors in mind, Thomas Edison invented the lightbulb. Now in cases like these when inventors work with tools and stuff, depression and suicide isn't really a problem. It isn't really a problem because it doesn't effect them really in much of a way.

In cases of depression, the areas which need to be fixed more revolve around the person and their affairs. For an example, if parents go their child and say that we're taking away your rights and privileges, and we're also taking a divorce. Besides, get an A in all of your classes in High School otherwise there will be consequences. By looking at this kind of situation, the parents are asking of too much and this will be concerning the child.

The child is facing many problems. First of all, he/she is being deprived of normal rights. Secondly, the child needs to understand that the parents are taking a divorce. On top of all of this, it couldn't be enough; the child also needs to start working really hard to get that A with all of these problems in mind. The doors are closing, the child's self-esteem is also closing. There is so much pressure on this child and so much he/she can do. Maybe it's time to find a solution that can benefit all.

In situations like these, there is basically nothing you can do. It is so pressuring and so cold that you stop thinking, taking in all of this. There is so much a human being can take in emotionally. Outside, the person might be saying, "I don't care." But inside, they are tearing up, they cannot take this anymore. The only path then is to take away their own life. Their own precious life that they could do so much with. A potential of a brilliant, mind-warming, bright child could change the world with.

This is why society all around no matter what race, what culture, ethnicity, or anything you are. For parents as well as children. It's good to push your child, put a little bit of stress on them so that they can achieve something and do something great in life. But when the child doesn't like what you're making them do, when the child or even your peer isn't comfortable with the situation, and it's turning to the point in which the child or even your peer is disabling themselves from you, it's time to remove the pressure.

There is so much someone can do with closed doors. But there isn't much someone can do when all the doors are closed, and there is no way out. Think about it.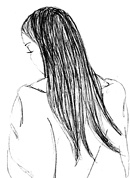 © Miranda B., Neosho, NY