Teen Pregnancy 101
September 5, 2011
How would you like being woken up five or more times at night to a screaming baby? Using your personal shopping money on diapers and baby food? What about no social life whatsoever? Sounds like a blast right? Think again. According to The National Campaign to Prevent Teen and Unplanned Pregnancy, for 750,000 teenage girls this year alone, these things will become their everyday lifestyle. A report by the Guttmacher
Institute states that "teen pregnancy rates are on the rise again". It's true, stayteen.org discovered that that is 1/3 of the girls 15-19 years old in America. All these number and facts are kind of overwhelming. This number is naturally causing a lot of concern. There are a lot of sources to blame in today's society, but in the end, it doesn't matter what or who you blame.

Whether you are flipping through channels on TV, checking out at your local grocery store, or simply driving in your car listening to the radio, you're surrounded by the subject of teen pregnancy. I'm sure you've heard of the show 16 and Pregnant? Or how about the spin-off from it, Teen Mom? Well a survey taken by the Parents Television Council reported that MTV, the channel that airs these shows, is the most watched channel for those ages 12-19. What about Jamie Lynn Spears, or Governor Sarah Palin's daughter, Bristol Palin? These two teen moms made the covers of tabloids everywhere, including People, Us Weekly, and OK!. In my personal opinion, I agree with those that claim the media is "glamorizing" teen pregnancy. Regular teens are becoming household names everywhere, just for having a baby at an early age. I do not think the media focuses enough on the consequences that come with teen pregnancy. This leads me to my next point…

I think we all know the basic consequences; the whole nine months, baby belly thing. The boyfriend, girlfriend, and parent drama. Don't forget about the whole no friends or social life whatsoever. And hello!

What about the baby?! The NCTUP discovered that daughters of teen mothers are 3 times more likely to become teen mothers themselves, and the sons of teen mothers are twice as likely to end up in prison. Think about that. Is that what you really want for any child, let alone your own? As far as school goes, according to dosomething.org only 1/3 of teen mothers earn their high school diploma. And only 1.5% have a college degree by age 30. That means less income and less support for the baby. Boys, that means more work for you. I haven't even gotten into child custody yet, but that could go on for days. Having a baby at a young age has some pretty scary consequences to say the least. So how do you prevent all of this from even happening?

We've all heard that teen pregnancy is 100% preventable, but how many of us really take that to heart? The only way pregnancy is 100% preventable is by staying abstinent. Condoms and birth control are good protectants as well, but even they don't always guarantee that you won't get pregnant. Unless you plan on becoming a mother or father think carefully about your sexual activity. Of course this isn't something many people like to think through at the time, but trust me, later on you won't regret it.

In conclusion, in order to save yourself a lot of physical and emotional pain ignore the media and the celebrities and focus more on the consequences and prevention. Although teen moms are still young and want to continue living like they did before they had their baby, it is impossible to do so. If you ask me, the best time to have a baby is when you can do nothing but think of him or her, rather than yourself. Having a baby is an emotional roller coaster for any mother or father, but having a baby while you're still a baby yourself is something no one should have to bear.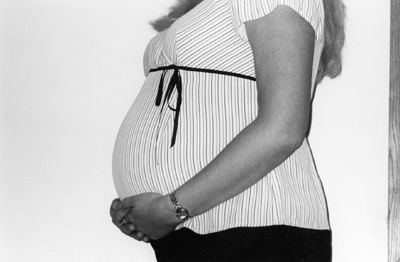 © Cathryn C. Pequannock, NJ