Community Service: The More The Better
April 6, 2011
Community Service: The More The Better

The sound of cheerful voices reverberates in your ears. You see a group of young volunteers picking up trash and then putting it into large plastic bags. "What a great way to spend your afternoon," you think, and you wonder why you almost never see this anymore. People need to volunteer more for community service because it improves the society, it helps the volunteers' overall health and well being, and it prepares the volunteers for their future.

Community service, as the name implies, benefits the local and global community."Service learning benefits numerous parties, from the schools to the agencies to the communities and society," according to the Civic Literacy Project, an attempt to teach people how to actively participate, and change the community for the better. ("Benefits of Student Participation in Community Service"). When you help you community you help the world. For example, when picking up trash with a program at your school, cleaning up the environment, building houses for the homeless with Habitat For Humanity or razing money for the hungry, this not only helps the people around you, it helps the whole world. When you drive around town you see many people on the street corners or on benches with signs like hungry, please help. Wouldn't it be great if you never saw another of those signs again? This is possible if you just help build a home for them, or help them get a job. Also, community service brings the community together. With all this technology, like cell phones and iPods, a wall is being formed around each member of our community as people get more and more obsessed with these electronics, and less interested in interacting with others; when performing community service you knock down this wall. Last year, only 26.3% of the United States population volunteered ("Volunteering in the United States"). If more volunteered, there would be more opportunities for everyone to make new friends and companions.

Community service not only benefits the community, it positively impacts the volunteers as well. Studies have shown that volunteering actually improves the volunteers' health. According to a survey done by volunteermatch.org, "more than68% of those who volunteered in the past year report that volunteering made them feel physically healthier. "73% of volunteers feel that volunteering lowered their stress levels," and "29% of volunteers who suffer from a chronic condition say that volunteering has helped them manage their chronic illness" ("RX for Non-prophets: Your Volunteers and the Health Benefits of Service).Performing community service also benefits the volunteers' social maturity. Volunteers earn an extra opportunity to work and interact with others. When volunteering you can find a new hobby, like gardening. You could also make new friends. According to Linda Duper, a frequent volunteer and author of 160 Ways To Help The World, "volunteering makes you realize how important everyone is," (Duper). Volunteering also increases your self-esteem. It makes you aware of self-importance. According to the survey "92% of volunteers agree that volunteering enriches their sense of purpose in life" ("RX for Non-prophets: Your Volunteers and the Health Benefits of Service").

Volunteering not only benefits volunteers in the present, it helps prepare them for their future. When performing community service volunteers learn valuable skills. They learn cooperation, empathy and citizenship when the partake in activities like helping with a school project. They learn how to work with others and to work hard in most all volunteer work. They learn to plan their activities. When volunteering you become experienced in a wide field, because you learn different academic subjects like, for example, when working for Habitat For Humanity you gain architecture skills. You might even find what subject you want to peruse in collage when volunteering. When volunteering you can become a leader. In the future community service might become mandatory to graduate, and if you already volunteer you will be prepared. If you volunteer you probably will have a better chance of getting a paying job. When writing your résumé volunteering is one more positive thing you can add on. Also studies have shown that some bosses are more likely to hire employees with experience in volunteering ("Benefits of Volunteering").

It is obvious that more community service should be performed. Making the community a better place to live, creating positive impacts on volunteers' lives and on our futures are all great reasons for volunteering. Community service is absolutely necessary. What would happen if there were no volunteers spending their afternoon performing community service? Would our community deteriorate? Would trash cover every visible surface? Would our community members become so isolated we forget how to communicate? This will be our future, unless we start volunteering more frequently.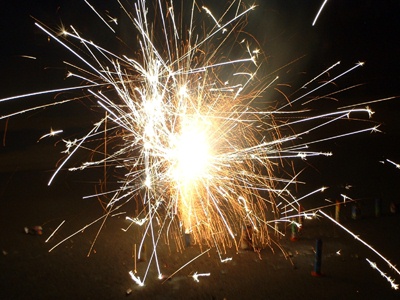 © Kevan B., Beaverton, OR