The Balance of Financial Success and Service
August 11, 2010
Why? I couldn't understand it. I never heard of anyone really helping people learn free of charge. Sure, any program intended to help people will need funding, but still. I have realized learning a language especially comes at an expensive price, but one man in South Korea launched a free interactive site to help people learn Korean. So, I had to find out why this man, Hyunwoo Sun, created 'Talk to Me in Korean.com' and has shared valuable, quality information for free about the Korean language. On Hyunwoo Sun's 'YouTube' page I watched a video he posted a while ago titled 'The Ultimate Goal of Talk to Me In Korean,' the answer to the question I've been wanting to know: "What's in it for you Hyunwoo Sun?" And, he said 'The biggest achievement of Talk to Me in Korean would be you, our learners, not needing the site.' Hyunwoo Sun does not earn any profit from 'Talk to Me in Korean,' but instead he uses donations and purchases ($3.00- $6.50) from users (or others) to keep the site running free of charge and to create more online
learning content for the site. Hyunwoo Sun epitomizes the idea of giving back not only because he created a Korean learning site free to the public, but because he demonstrates well the balance between financial success and giving back.

He demonstrates the point I intend to make here that 'giving back' should not only be donating money to support a cause, but rather supporting causes in areas where you know you have the talents and skills to contribute most to. This is not to say people should not fund a initiative program. If there were not people like Bill Gates or Oprah Winfrey donating massive funds to initiative programs then many might not survive, but donations come in many other forms besides money. In fact, money sometimes comes with the "donations" of talent and skill from people.

I had to learn the hard way that getting a job takes having done something similar to a job and usually without getting paid especially for a student coming straight out of high school. Without some experience in volunteer work or after-school academic programs, some evidence to your strengths and abilities, employer's would have a hard time getting an impression of me outside of an interview. Everywhere people go and have made efforts to support a cause whether with the 'Make a Wish Foundation' or in improving themselves in some way they leave an impression on those watching. The impression onlookers have of someone turns into a reputation for the one in the center of attention, which helps somebody supporting a cause with their talents and skills to draw support from those same people.

The best possible way to really serve or help other people is to use our talents and skills perfect for a certain service to supporting a cause. People recognize Hyunwoo Sun all over the world for his uncanny knack to speak a language like a native and teach it with striking accuracy. With his talent to learn a language and skill to operate and run many sites (among other skills), Hyunwoo Sun built a reputation for himself which moved people to support the cause he supports, improving language learning, with donations (money or talent and skills). Though Hyunwoo Sun probably does not have a successful career with a big salary at 'Talk to Me in Korean,' the money he does get from users and other donators he only invests in the site to continue helping learners of Korean. The success story of 'Talk to Me in Korean' represents the meaningful relationship between service and financial success. Before financial success there must be service, and service builds a meaningful reputation needed to reap financial success.

Hyunwoo Sun served beginners of the Korean language and earned a meaningful reputation. He donated knowledge which took him years to amass, shared it with the world, and in the meanwhile kept improving his talents and skills allowing him to keep helping people learn Korean. In addition, he continues to do what he loves by pursuing the purpose of service through language which he learns with extraordinary ease. "Serving to Earn and Giving to Keep," the results of the purposeful actions come hand in hand in creating a meaningful reputation. And, a meaningful reputation links service and financial success.Contribution of talent and skills delivers a huge service to those in need. Who could not remember. Service must come first before any earning (e.g reputation or even money) or keeping (e.g keep realizing success, keep a meaningful reputation, keep using talents and skills to your greatest potential while loving what you do) can happen. Service benefits the served as much as the one earnestly serving. Because with all the money in the world a life without a meaningful reputation earned from service fulfills no one, not the financially successful or those in need of support from those who give can give.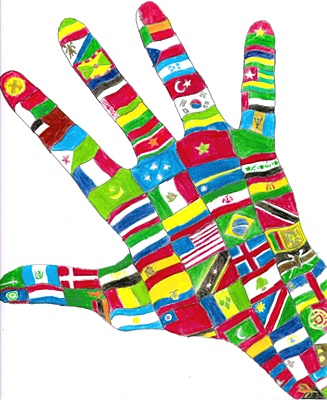 © Adeline N., Ridgefield, CT