The Star Spangled Banner
January 19, 2010
They ask, "Should we keep the star spangled banner as our national anthem?" But I ask what kind of question is that?! Of course we should! It's the only song that suits our country best, "Whose broad stripes and bright stars . . . [are] so gallantly streaming?" that's ours! It shows spirit, respect, and that America is solid.




This beautiful song shows all of our country's spirit, even when we Americans don't. In one of the songs verses it states, "And this be our motto: In God is our trust" it is true that we should trust him because he's the creator of you and I, and whatever he does, it's for the good of us. Our flag, or as our anthem puts it "The Star Spangled Banner", represents America, so when it says in the song, "The Star - Spangled Banner: Oh, long may it wave," it could also mean long live America.




The National Anthem also shows respect for the fallen, and the ones that are currently fighting for our country, or even helping neighboring countries. We should take time to think about all those men fighting when the song was written and about all the men and women fighting and serving our country today. They work very hard "thro' the perilous fight". A lot of them go on missions on foot so they see "That havoc of war and the battles confusion" doesn't help when they get back into the real world either. Another section of the song says that "their blood has wash'd out their foul footsteps' pollution." So why not honor the ones that have selflessly served our country?




America has had its ups and downs, but it has stayed a solid country for a long time and this song is part of that glue that holds it together. Even through "the rockets red glare and bombs bursting in air . . . our flag is still there". Stating "The land of the free" shows not only that we're free, but that we worked for it, we've been down that dark road. We as a country also know when enough is enough, we don't fight from anger or pride: "Conquer we must when our cause is just". Neighboring countries have modeled their country's constitution and government after us because we are a solid country.




Our National Anthem couldn't be traded for any other one; it fully explains us, even if it was about a particular fight. I think Francis Scott Key was a very inspirational writer, he could never know how much impact his poem has made on America. When singing this song, think about all that happened for him to be able to write these words, and how true it is almost two-hundred years later.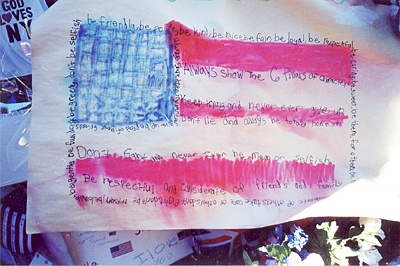 © Ashley F., New City, NY