Depression and Apathy
December 16, 2009
Why is it that the happiest people always are the saddest?

A bit of a contradiction. But I think people already get what I mean by that.

Everyone has some sort of burden on their shoulders. It seems almost just like part of the human experience; whether they suffer from a burning desire to be liked, cannot bring themselves to trust others, suffer from unlimited pressure on their shoulders to be "perfect", or have two sharply different sides to themselves, everyone has some sort of chip on their shoulders that seems to make it just that much harder to force their way through the crowds and shine like they truly do. And while these qualities shape these people, and often make them into the people that their friends so love, where does it take its toll? Where is the line drawn from "Character Building" to "A Nightmare"? Where does it cease to assist in the shaping of your character, and become a burden?

And it sadly seems that those that have been the most shoved around, are often those that are the happiest. They seem to be the bubbly ones, that always have a joke, always have something nonsensical up their sleeves. They seem to be the ones that look as though they're so perfectly happy, when inside, they're slowly hurting so badly, they can't find the courage and trust to let others see.

It's a nightmarish circle. It's so easy to look upset, to act depressed, to not be able to put a smile on your lips. Those people that work so hard at being wonderful, all the time, happy, all the time, have the true strength. Something I could only ever wish for. Yet, they can't even see it in themselves! Their strength, the light they shine, the hope they give others. It's swallowed in their grief, which they cannot share due to fear, lack of trust--and so they force themselves to be happier, and it deepens their despair.

Escaping from this sort of thing isn't enough. Forcing the tears back doesn't solve the problem. Probably all of us have wished for death at one point, yet we don't see these same black desires in the people we care most about! When did we become so selfish? When was the wall built between our own feelings and the feelings of others? In the end, we're not so different.

Think that you're the only one that has considered death as an alternative? Think again. Think about what you did to hide it. Look around you. Ask your closest friends. We're all so alike in that aspect. A life is a life is a life, and by no circumstances is it expendable. I may support the troops. But I don't support the war. I may not like people. But I don't want them to die. Everyone has a spark in them, no matter how faint, and this spark is only a breath away from a flame.

We can't forget to remember other people, to see ourselves in them, and to never--Ever!--Underestimate someone's sorrow. Because, often, you don't know how deep it runs, until it's too late.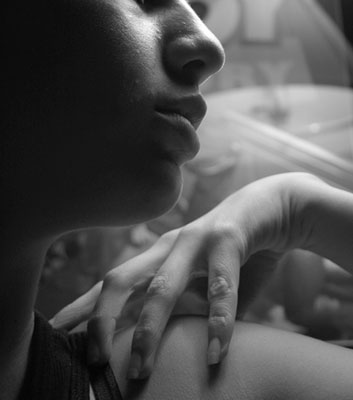 © Rebecca B., Santa Clara, CA