Theme analysis of Theif Lord and Walk Two Moons
November 18, 2009
Have you ever wanted to fit into a new school? Had that desire made you act differently? Over the summer I read two very interesting novels by two famous authors. The books are Walk Two Moons by Sharon Creech and The Thief Lord by Cornelia Funke. Walk Two Moons is about a thirteen year old girl, Salamanca Tree Hiddle (Sal), whose mother, Chanhassen, left to grieve by herself after giving birth to a stillborn baby. Sal, who loves her mother very much, is told by her father, John that her mother will not return. Sal acts very differently after she hears this horrible news. The Thief Lord is a very intriguing book about two brothers and their evil aunt. (Prosper, Bo and Esther). Esther is trying to separate Prosper and Bo by sending Prosper to a boarding school and adopting Bo. The two boys love each other so much that they run away. Belonging falls into two categories: one can want to belong to a group or her/she might want a person to belong to them because they love that person very much. These two books prove that the desire to belong makes one act differently as a way to achieve their means.
Initially, in the book Walk Two Moons Sal acts unusually after she hears the news that her mother will not return. After seeing her father answer Margaret's constant letters, Sal acts differently towards Margaret. When Margaret asks John if Sal knew how they met, John says that Sal doesn't want to know. Sal thinks to herself "Now that was the truth, absolutely. Who cares? I thought. Who cares how he met Margaret Cadaver?(10)" This is very unlike Sal. Sal is usually a loving and kind person, she is considerate of other people's feelings, like when Phoebe Winterbottom says, "'Wasn't it, well, loud there [Mary Lou's house]?'" Sal says "'I didn't mind.(49)'" Sal acted differently because she wanted her father to belong to her mother and her only. She couldn't bear to think that her father would get married to Margaret. Sal wanted her father to belong to her and her mother so much she behaved rudely to Margaret.
Subsequently, in Walk Two Moons Sal acts differently when her father tells her that they are selling the farm and moving to Euclid, Ohio. Sal starts throwing tantrums and behaving like a "wild boar." She says "In the end, I think I merely ran out of steam. I stopped throwing tantrums. I didn't help pack, but when the time came, I climbed into the car and joined my father for our move to Euclid(112)." Sal behaved very unusually because she didn't want to leave the place that belonged to her. She didn't want to leave her mother's memories behind; Sal wanted to belong to the place where her mother last walked.
Furthermore, in the book The Thief Lord, Prosper and Bo act very unusually when their aunt Esther, tries to separate them. Prosper and Bo ran away from home so that they wouldn't be separated. Their Uncle confirms, "'They ran away more than eight weeks ago,' Max Hartlieb continued, 'from their grandfather's house in Hamburg, where they were staying at the time.(10)"' Prosper and Bo are usually very well behaved. Even though they were in need of money in Venice, they didn't steal any money or food; on the other hand, their friends stole. Prosper got upset just because Bo picked up a stray wallet that fell out a tourists pocket, "Prosper snatched the wallet from his brother's hand and pulled him into a dark arcade away from the crowd. 'Where did you get that, Bo?(18)'" The two brothers acted differently because they loved each other and they wanted to belong together forever.
In addition, Hornet acted differently when she found out that Prosper was missing and that Riccio was looking for him; she became very tense. Riccio said, '"You've had enough to eat, Riccio! [Riccio imitated Hornet] Go and find Prosper! Please! He might have thrown himself into some canal(243)!"' Usually she is very tough; when Victor came to their hideout to report Prosper and Bo to their aunt; instead of panicking she suggested a good idea. "'Wait a minute!' she said, turning toward the others. 'I just had an absolutely insane idea. Do you want to hear it, or should I shut up?(121)'" Hornet behaved very differently because she was tense about Prosper and his well-being. She wanted him to be with her so that she, Riccio, Mosca, Bo, and Scipio could belong together like a happy family.
In conclusion, the desire to belong can make one act unusually. When one moves and joins a new school they really want to fit in and belong together with their new classmates. This desire may make people act differently. Suppose in the old school everyone was nice and kind to each other and in the new school everyone is snobby and mean, then one feels that he/she has to act snobby and mean in order to fit in. On the other hand, one may also love a person so much that they want that person to belong to them forever. I believe that the authors of these two books The Thief Lord and Walk Two Moons wanted to reveal that the desire to belong can make one act differently as a way to achieve their means.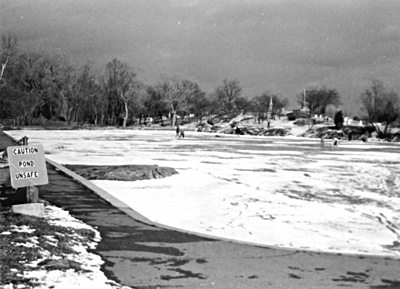 © Richard J., Congers, NY