Is Drake the Most Influential Rapper of the 21st Century?
April 19, 2018
Since I was young, I was really influenced by my parents like many other kids, but more. The somewhat mature brain of mine always wondered how my parents could be this successful to support a whole family, be so thoughtful and accepting to me and also treat me way differently than any other person in the world. My young self would be curious how my parents finished college and university and managed to get a degree without getting distracted when a simple science quiz was like hell to me. I desired to know what was going on their minds since my parents would find out all the problems and conflicts I had around as they would listen and understand my feelings and opinions I never would have said outside of home. I wondered and pondered upon what made them make me feel like such a special person like I'm the best person in the Earth and act so sweet in front of me; only me.

This is what Rapper Drake has done with the generation of the youths of the 21st century.

Aubrey Drake Graham, born on October 24, 1986, in Toronto, Canada (Drake), definitely changed the whole world's perspective to music. Drake is the certainly a must-have of the world's most influential rappers of the 21st century because of his achievements, his uniqueness, his mind, and thoughts.

With the nominations, awards and success Drake has got in the music industry, we definitely know how much Drake has been influential and famous to not only teens or young adults but to people with all ages. In 2011, Drake's album Take Care sold 4.6 million copies and Nothing Was the Same (2013) sold over 7 million copies. If You're Reading This It's Too Late, released in 2016 also went platinum (2 million sales) overnight (Miller). This shows how successful Drake is in the game right now. The immense hard work Drake has put into the projects and album he puts out feels to me in a way of how my parents studied for their near future which is today. As the sales and attention of Drake's studio albums and singles increased, his dedication to his music was undeniably noticed by not only his fans but to all sorts of music listeners as,

In 2014, Drake landed on the Billboard Top 100 chart for the 72nd time surpassing the Beatles for the eighth most hits ever, a feat he accomplished in five years total. He tied a Beatles record earlier this year by posting 14 hits on the Billboard 100 at the same time — basically his entire mixtape. But the most incredible stat of Drake's career has to be from 2012, when he passed hip hop legend Jay Z for most No. 1 hits ever on Billboard's hip hop chart in just over two years. (Miller)

Not only that but just last year, Drake had 22 nominations and 13 wins at the Billboard Music Awards ceremony and set the world record for the most awards won by an artist in a single year, set by Adele in 2012 (Swatman). Drake's respect he got from his albums and songs eventually turn into numerous world records. Drake beat Beatles, one of the best bands of all time, with one record and tied them with one record. He also surpassed Jay Z, a hip-hop legend, and Adele with two separate records. This shows how influential Drake is to our generation and how the young rapper would be dominant in the future too.

Ignoring all other hip-hop artists and musicians' influences in the music game, Drake has created his own style of 'music'. Without the inspiration from gangster and sexual music, the Canadian rapper "turned the half-sung, half-rapped style into a fixture in mainstream radio in a way none of the aforementioned artists did" (Barnes). Marc Miller from Artistic Manifesto who wrote "Is Drake Is The Most Important Figure In Music Culture Today?" said "Drake really sings, and it sets him apart in a great way... he really can actually rhyme songs and also chose the warm way to approach to his music listeners" (Miller). It's not only this uniqueness and specialty that set him apart but he has a different mindset from other musicians in the music game. Not mumble, not saying words that seemed to be pulled out from a random word generation but expressing his actual thoughts and experience into his songs and studio albums. Drake's newest "album" or playlist More Life is like someone's personal playlist of their music (Sarah). Drake just isn't the type of guy to imitate other musicians. That's why Drake in 2017 put out his own style of 'album'. Drake refused his newest album More Life, to be called an actual 'album' because his intention for the project was to be a ...playlist. It's unique and has a personal meaning to them. This is what Drake did with More Life. Each song was different and had its own sound and influence. Drake made the playlist to share it with his fans (Sarah). Drake didn't just putting out records that his fans liked, but he also added his preferences and genres he liked as a bonus. Also, Drizzy did not only focus on one genre which is rap and hip-hop at this point, but he had pop, tropical music, R&B/soul and of course rap and hip-hop.

The last reason why Drizzy Drake has been so dominant in this time range is that of his personality, ideas and his thoughts.
Big Ghost, a paragon of golden age hip-hop wisdom, continually named Drake
among his annual softest rappers of the year roundups. But through the shade,
Drake has managed to carve out his own lane, and in the process he's remade
hip-hop in his own image. (Bruner)

Drake is often criticized by rap fans because he is often way softer than other rappers and hip-hop performers but this is used as an advantage to Drake to show how he is unique and cares about things way seriously and sincerely compared to others. His softer personality made him more generous as Drake donated 1 million USD to the public, including to mothers, college scholarship and groceries, in his music video for "God's Plan" and Drake in the music video says "We're nothing without our mothers, so thank you." Also in the lyrics of the song, "God's Plan" itself, Drizzy Drake says "I only love my bed and my momma." These factors show how respectful Drake is to women and how much he looks up to mothers raising their children (Bruner). Rejecting to talk about money, power and girls, each lyric of Drake's songs talked about real life, family, happiness, love, and real emotions. Drake did not just talk about his life but he expressed his love back towards his fans, argued and fought about real-life dramas and disaster going on (Miller). Drizzy actually wasn't much of a serious guy. Receiving hate from original hip-hop fans who were not used to Drake's new style of music, Drake just made fun and jokes around about his friends, family members or even himself. Before Drake, goofs and gaffs coming from a rapper were not common for sure, but his personality broke through the prejudice and changed the world's perspective on ordinary hip-hop artists.

Without any doubt, Drake is the most dominant and influential rapper in the game at the present. Giving out multi-platinum albums like "Nothing was the Same" and "If You're Reading This It's Too Late", Drizzy made the genre, hip-hop, way broader and not limiting on what hip-hop should be. While saying no to prostitutes and drugs, his uniqueness and his ideas on life and music itself made him the figure he is today. Right now, the real question isn't if Drake is the most influential rapper of the 21st century but it's how far the Canadian rapper will go.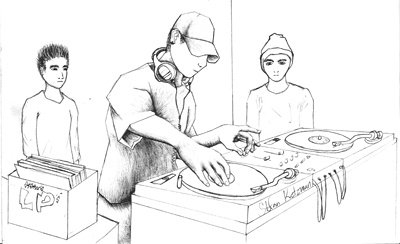 © Stefan K., Philadelphia, PA