Oh Bo: an Essay on Bo Burnham and Comedy
October 22, 2016
Art is dead,
So people think you're funny,
How do we get those people's money?
I said art is dead,
We're rolling in dough while
Carlin rolls in his grave,
His grave,
His grave…
In a mixture of self deprecation, introspection, and perversion typical of his comedy, Bo Burnham performed his song "Art is dead" at his first stand up comedy special, "Words, Words, Words" at the age of nineteen. Now twenty-six, he's managed to accomplish in ten years what we can only dream of doing in twenty to thirty years - he's written a book of poetry, had a comedy special sponsored by Comedy Central as a teen, went viral on Youtube, started up a show on MTV for one season, made cameos in movies, made two stand up comedy specials on his own, and has sold five different CDs. Now that he's officially taken a break on stand up comedy, I want to reflect on how this came to be, and what effect he's had on comedy as a whole.
When Bo uploaded his first video "My Whole Family…" at the age of sixteen, he had no clue that he would soon become an overnight sensation. His only thought at the time was for his older brother to watch it, maybe have a good laugh or two and have a couple more people view it if he was lucky. Instead, his video garnered millions of views, and got him noticed by Comedy Central, which he signed a four year record deal with.

Bo was the youngest comedian that Comedy Central had ever signed a deal with, so this was quite a risk for the comedy industry. However, Bo's unique content and clever wordplay kept him afloat in "Words, Words, Words," earning him a large following that allowed him to sell out his two subsequent shows "what." and "Make Happy."

From the first few minutes, you can already tell that this is not your typical stand up comedy show. Everything is meticulously planned and rehearsed. There is no long period of standing, sitting around, or talking; Bo's in constant motion, moving from bit to bit in an unpredictable fashion. One minute you might be listening to a song about breakups, another you'll be listening to a haiku from a dog's perspective. The show has a completely meta feeling around it, breaking the fourth wall on multiple occasions ("Okay, you know what? This bit is getting a little too weird and meta. Okay, we're done with it."), and Bo often talks directly to the audience, destroying the usual distance from performer and viewer. Watching the show, you feel as if Bo is casually talking to you rather than performing a scripted show, albeit a conversation with lots of songs and elaborate lighting sequences.
The content itself ranges from the obscene to the absurd. Bo doesn't refrain from explicit language or taboo topics, and in fact, much of his comedy hinges on it. Here's a segment of his song, "Love is…":

I love you like kings love queens,
Like gay geneticists love designer genes [jeans]
I need you like New Orleans needs a drought,
And I want you, yeah,
Like a lawyer slash mathematician wants some kind of proof.
And I want you, yeah,
Like JFK wanted
A car with a roof.
While this segment doesn't include the profanity prevalent in most, if not all, of his songs, it serves to illustrate two obvious things. One, Bo is incredible with wordplay. His lyrics always have more than one meaning, and his clever use of homophones (his song "Words, Words, Words" is the greatest example of this) shows the real thought behind his creative process. Second, he doesn't care about political correctness. When it comes to his show, all political correctness is thrown out the window, and it shows. These factors are what gives Bo his appeal, but also what turns some viewers away. Bo realizes this, and acknowledges it in his first verse of "Are You Happy":
Now the show is done,
I hope that you had gut-trembling or something resembling fun,
But if you watch this thing alone,
You probably didn't laugh, but maybe a few times you exhaled out of your nose.
But if you hated it, that's fair.
But either way,
Could you find a little more time for a parting questionnaire?
The fact that Bo is so openly obscene and offensive often leads to the misconception that his jokes are crude and unrefined, but his shows often have a deeper meaning than one can assume at first glance. While admittedly some of his songs and segments are constructed for no reason other than to make people laugh (things that come to mind are "Andy the Frog," "Little Adolf," and "Rehab Center for Fictional Characters"), his show always ends with a theme that's worth remembering and thinking about.
In "In God's Perspective," Bo begins on a comedic note:
The books you think I wrote are way too thick,
Who needs a thousand metaphors to figure out you shouldn't be a d***,
And I don't watch you when you sleep,
Surprisingly, I don't use my omnipotence to be a f***ing creep.
Later though, it slowly takes a more philosophical turn.
You argue and you bicker and you fight,
Atheists and Catholics,
Jews and Hindus argue day and night.
Over what they think is true,
But no one entertains the thought
That maybe God does not believe in you.
You pray so badly for heaven,
Knowing any day might be the day that you die.
But maybe life on earth could be heaven,
Doesn't the thought of it make it worth a try?
The fact that you can watch a show that somehow manages to be both funny and thought provoking is truly phenomenal. Other issues Bo has tackled include the corruption of news programs ("Channel 5 News"), depression ("Kill Yourself"), the shallowness of pop culture ("Repeat Stuff"), and most of all, the hypocrisy and unhappiness that comes with performing ("Art is Dead," "Can't Handle This," "We Think We Know You," and "Are You Happy"). Bo also makes it clear to his fanbase that his life of fame isn't all that it's cracked up to be. Bo often remarks that he was given a once in a lifetime opportunity that would probably never come again, and says that despite his lucky chance at fame and success, he isn't always happy. In his show "Make Happy," he breaks out of his persona for a minute to talk explicitly on fame and performing, saying:
"I was born in 1990 and I was raised in America when it was a cult of self expression. And I was just taught, you know, express myself and have things to say and everyone will care about them. And I think everyone was taught that and most of us found out no one gives a s*** what we think. So we flock to performers by the thousands because we're the few who have found an audience. And then I'm supposed to get up here and say 'follow your dreams' as if this is a meritocracy? It is not, okay? I had a privileged life and I got lucky and I'm unhappy. They say it's like the 'me generation.' It's not. The arrogance is taught, or it was cultivated. It's self-conscious, that's what it is; conscious of self. Social media is just the market's answer to a generation that demanded to perform. So the market said, 'Here, perform everything to each other all the time for no reason.' It's prison. It's horrific. It is performer and audience melded together. What do we want more than to lay in our bed at the end of the day and just watch our life as a satisfied audience member? I know very little about anything, but what I do know is that if you can live our life without an audience you should do it."
There are no words that can properly express the shock of that revelation. Here was a performer who was born from that exact thing he was opposing, biting the hand of what had got him to where he was. It was hypocritical. It was ludicrous. It was absolutely, ridiculously, undeniably true. He finally let out all the pent up frustration he had as a performer, and turned the question onto us, the audience. Are we happy?

I had always thought comedy was pointless. How could we be selfish and laugh, nestled in our privilege, while there was so much suffering in the world? What did this comedy serve to do? Like Bo Burnham sang in his intro to "Make Happy":
I can't wrap my mind around exactly why I'm here.
I know you paid money, I should be funny,
Other than that, I don't know why I'm here.
To make you laugh, right? That's only half right.
Look at the world, I don't know why I'm here.
All this laughter can't feed starving Africans.
I just hope I don't get more from this than you do.
I would love to tell you that everything is fine.
You wanna be happy? Well, get in line.
It was only until I listened to Bo Burnham that I realized comedy's real worth. Comedy wasn't around just to make us laugh, but to make us think. It helped to cope with the world we lived in, to help us try to make order of all the chaos present in our reality. As Bo Burnham once joked, "Laughter is the best medicine, y'know, besides medicine."
Undoubtedly there are comedians that do this, and comedians who don't. But as comedy and tragedy becomes more prevalent in our waking reality, we shouldn't shun comedians for trying to make light of terrible situations, but praise them for "taking people to dark areas and showing them the light." After all, if "art is a lie and nothing is real," we may as well laugh and be informed, rather than feel miserable and helpless in our "dark areas."

As Mr. Burnham's comedy career slowly draws to a close, I just want to say, on a scale from one to zero, yes, Bo, I am happy.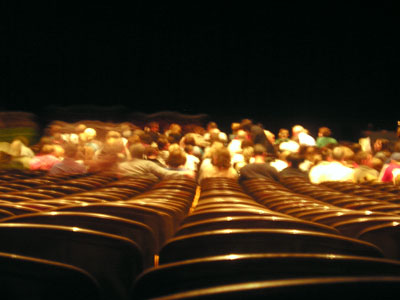 © Jessica P., Bethel Park, PA