I Don't Care
March 20, 2014
"I don't care."
The slam of the bedroom door.
"Whatever."
The deep, releasing, 'I've-been-through-so-much' sigh.

The collective sounds of adolescents around the world. We move through the daily motions of life with an air of disbelief: "I can't believe they're making us do this." Every move is previously calculated with a question: "How much should I care?" Any sarcastic comments questioning authority are awarded bonus points. Even if we don't always hold this attitude, the stereotype is imprinted upon us.
And I get it, I really do. Being a teenager, stuck between the innocence of childhood and the perils of adulthood is somewhat suffocating. Especially when we're mostly not allowed to indulge ourselves in either realm. It's been said many times before: they treat us like children, yet they give us the responsibilities of an adult.
But it seems to me that we are just giving ourselves excuses to be governed by the world around us. We lay the blame on "them", the adults. The people who have taught us how to live. They're the ones who give us the guidelines to live by so they must be responsible for our disinterest. We choose lethargy because we are unsatisfied with their moderation.

We choose to act the way that we do. Regardless of what happens around on the outside, ultimately it is we who must be held accountable for our actions. However influential others' words or actions may be, they do not act or speak for us. No one other than us is really responsible for our inertia.
And maybe this period of passiveness is necessary. Maybe we have to go through this to find out what we really care about it. Maybe enthusiasm needs to be found during the journey. All I say is that once you find your passion, be passionate about it. Do not hold yourself back. Because if you do, you are letting something other than yourself control you.

Being apathetic is really just pathetic.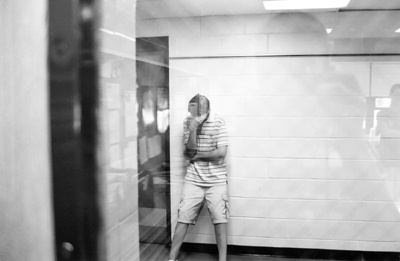 © Kyle W., Pompton Plains, NJ