The Bikini Issue
June 13, 2013
This nation is going bikini-crazy. At almost every women's/teen clothing store, whether it's Forever 21, or Wet Seal, or Delia's, or Lulu's, all you see is bikinis. And, frankly, I find it annoying and unthoughtful to the girls that prefer to be a little more covered up.
There's nothing wrong with wearing bikinis, nothing at all. But teenage girls should have that OPTION. Sure, you can get plently of one pieces from brands like Speedo, but those bathing suits are basic, plain, and sometimes, a bit "old-ladyish." I don't think its that big of a deal for clothing stores to produce cute, pretty one pieces that don't make me feel frumpy, yet still make me feel comfortable.
I emailed these stores about this. Almost all of them emailed back: "We provide monokinis." If you don't know, monokinis are a sort of hybrid of bikinis and one pieces. They are one piece yet they usually have huge cutouts along the sides or front, or both, that show off everything. I'm sorry, but that isn't a one piece, and it isn't something I would feel comfortable in.
It's not that I'm self concious or insecure about my body, I'm fine with my body, I, personally, just don't like the idea of walking around showing of my cleavage and my entire torso at public places, like the pool or the beach.
When I go to these stores or on their websites, looking for a cute bathing suit for the summertime, I find myself offended, feeling like crap because all they sell are bikinis and monokinis, stuff I'm not happy and comfortable wearing. It's society favoring the beautiful, the thin, the ones with big boobs and a great body, and trying to perusuade me into changing who I am, just so I can fit into theor bikinis. It's like they don't even regonize those who don't want to where a bikini: at these stores, on these websites, dozens and dozens of variations of bikini bottoms and tops, and when I type in: "One piece swimsuit" it says: "Sorry, check your spelling." or "Zero Results". Sure, that's just what the computer says when they have no results, but it ticks me off.
I want to make this nation a place where everyone can feel confident with themselves. I want to put one pieces back in all these stores.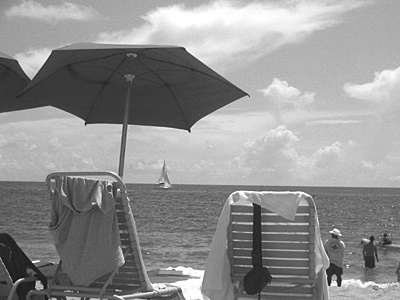 © Emily O., Boynton Beach, FL