Is this Real Beauty?
March 7, 2013
My best friend, named Ella, is a sad, but a good example of how "looking good" has affected teenagers today. Ella has been my best friend since kindergarten. We grew up together and she has the most beautiful personality and looks I have ever seen!

I have asked many people if they agree with me when I ask, "Isn't she beautiful?" and they have all said yes. Unfortunately, though, Ella is not the skinniest person out there, even though she is extremely active in sports.

One day, I noticed she was not eating her lunch, so I asked her, "Why aren't you eating? Is something wrong with your lunch?"
She responded "No," and began to explain to my friends and I that she believed she was too fat. She was refusing to eat to become thinner. I just could not believe that this beautiful person, my best friend, was willing to starve herself to look thin.

Ella said, "I want to look like my skinny friends, like you Bri."

That is, to this day, the worst thing she has ever told me. She still struggles with her weight today, but she has started eating again and is getting better.

Even I have struggled with fashion in today's society. One weekend, I was home alone and sick with the flu. Unfortunately, my parents were out of town, so it was up to me to run to the store to buy food and other household items. Before leaving the house, I would go through a process. I remained in my sweats and t-shirt, but I put in contacts instead of just wearing glasses, I put on more deodorant and perfume, a little mascara and eyeliner, I threw my hair into a pony tail with a head band, to hide my unmade hair, then I put on a sweatshirt so I could get away with not putting on a bra. I did all of this, even though I did not necessarily want to. I did it just to hide the fact that I am sick, and to look acceptable to the public. Even though I did all of this, I still felt eyes on the back of my head, judging me with every step I took. I did not know if anyone was or not, but I was self conscious. I did not want anyone secretly judging me as something I am not. Unfortunately, self-consciousness is a major part of society today.

So, what is the root cause of self-consciousness? It's hard to say. A good starting point would be today's media, such as: magazines, movies, commercials, music, etc. Looking through a certain fashion magazine made for teenage girls, I could not help but get a sense of contradiction. I would flip through and look at the pictures of starving models and "must have" outfits, then reach the end of the magazine and read an article about the negative affects of anorexia, bullying, stress, reputations, sex, etc.

I wondered to myself, "Why would they even bother putting those five page articles in the back? All that readers see are the 150 pages of half naked, skinny, makeup covered, and "fashionable" models."

The longer I looked through these magazines the more I began to think about my friends, myself, and our society as a whole, and how magazines, like this one, affect us, sometimes without us even knowing. Whatever the cause of these, seemingly, negative effects, I pray that beautiful teens, such as Ella, can learn to love themselves for who they are, not for what other people think of them. It is the opinion of the ones who love us that truly matters.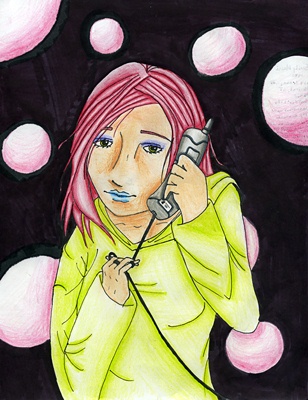 © Emily M., Milford, CT