Death
January 29, 2013
Sometimes I wonder what it's like to just die. Peaceful? Sleep-like? If it's anything like I imagine, I bet it's wonderful.

Just peaceful darkness, full of nothing but sleep. Sleep. I love sleep. So maybe I'll love death, too.

But of course I won't love; I'll be dead. Dead people don't love. Dead people just... stay dead. Like a statue. They don't move. Or breathe. Or think.

Which is a shame. Although, if dead people did move, and breathe, and think, they'd be zombies. And zombies eat people. So I've heard, anyway. I've never actually met one, so I can't really say for certain.

How could a zombie even exist, anyway? Isn't that kind of impossible? Like unicorns or something - totally not real. Only in movies and TV shows and someone's crazy imagination.


People these days. And their lack of true imagination. Makes me sick. They should all just die or something.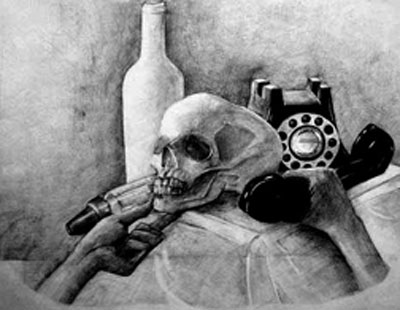 © Xiao H., Naperville, IL