this i believe.
October 15, 2012
Rebecca Pisano

This I Believe

"The two men appeared out of nowhere, a few yards apart in a narrow, moonlit lane. For a second they stood quite still, wands directed at each other's chests; then, recognizing each other, they stowed their wands beneath their cloaks and started walking briskly in the same direction."

I was excited to be reentering the wonderful world that is the Harry Potter series. I hadn't visited in a while. You are probably thinking I am crazy for saying such things as to be able to entering other worlds. But I am not. I believe books are doors to other worlds. Reading is the key to those doors. I thought I should make this point clear to you because so many people think reading is a waste of time. I disagree. I believe reading is one of the most important things in the world, any world. Reading allows the person to escape the stress of the present time and travel anywhere they wish. It teaches about experiences and ways of life. Reading makes you use your imagination. Whenever I read a good book, I feel I am a part of it. I get to travel alongside the main character as the story unfolds. When I started reading the Harry Potter series, I was hooked immediately. I felt as if I was one of Harry's close friends, trying to help him defeat the Dark Lord. It was an amazing to feel that much joy by simply reading. With this book series I learned how important reading really is. I made friends with the other people who had traveled to the wizarding world created by J.K. Rowling. I just couldn't believe all this happiness could come from the book I held in my hand. Not only did I learn but I had fun from reading books.

Now some people will argue that just going to see the movies could give you the same experience as reading a book, in much less time. I don't think so. Movies take away your ability to imagine what the words are saying. The movies can't show small details that the words written can. The description and creativity in books is so much more powerful than movies will ever be. Reading is such a great past time, why skip it to go see a movie.

I flipped to the last page and read: "Albus, Rose, Hugo, and Lily laughed. The train began to move, and Harry walked alongside it, watching his son's thin face, already a blaze with excitement. Harry kept smiling and waving, even though it was like a little bereavement, watching his son glide away from him……

The last trace of steam evaporated in the autumn air. The train rounded a corner. Harry's hand was still raised in farewell.

"He'll be alright," murmured Ginny.

As Harry looked at her, he lowered his hand absentmindedly and touched the lightening scar on his forehead.

'I know he will"

The scar had not pained Harry in nineteen years. All was well"

I left their world yet again as I finished the final book. But I'll be back soon.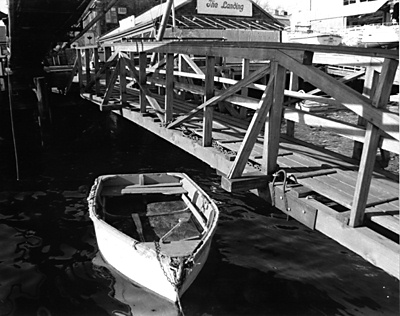 © Megan S., Marblehead, MA