Advertising: Too Prevalent?
May 11, 2012
Advertising in today's society seems to be considered by most as background noise; it's always there and it can either be ignored or drive you crazy. In fact, sometimes all it takes is a mention of the word "compare" for an unpleasant recreation of George M. Cohan's classic "Over There" to be stuck on your mind for the rest of the day. But what may seem like harmless irritation on every television channel, magazine page, and billboard actually has shocking effects on how we look at the world and ourselves. This has to open up the question; is advertising too prevalent in the jungle of our common wealth?

The "ASA" is the UK's regulator of advertising across all media, and they work to ensure ads are legal, decent, honest, and truthful. This independent company are confident that they have made sure the public aren't exposed to inappropriate, harmful, or misleading images yet models in fashion or make up advertisements nowadays are 23% lighter than healthy women. This harms the public because since adverts are everywhere you look the hundreds of pictures of underweight women drives a lot of people to believing they are the unhealthy ones; around 70% of average girls believe they are overweight. So have the prevalence of adverts even blinded the regulators into thinking anorexic models are acceptable icons because their images are everywhere? Or maybe these types of advertisements can be ignored.

A year or so ago, Lynx produced a television ad showing a man being chased by hundreds of attractive ladies after he used the latest Lynx deodorant. The advert was popular because of the humour used; the majority of the public found the story of the ad ridiculous but since it was so unbelievable the product became well known and therefore sold very well. So men weren't being brainwashed into thinking that the deodorant would actually provide instant popularity with girls; if anything they were being entertained into buying a product related to hygiene they might not otherwise get, which I see as a positive...

However, the psychology of advertising can often make you buy a product you don't need. If the advert has an attractive speaker, a catchy jingle, bright colours, or a good story, your brain focuses on that as opposed to the facts of the product. For example, if the stunning Kate Moss was modelling some quite ordinary lipstick, you are more likely to buy her product than a better value one which was modelled by someone less attractive. This can waste you money and when there isn't much of it around, adverts can't be helping your pocket by extorting you.

But on the other hand, according to research, advertising and economic growth are directly linked. Countries which spent less money on advertising had less growth too. In this society, there is a big worry about money and employment and it seems that advertising can provide both of these things.

My opinion in this controversial subject is that advertising is way too prevalent because it harms you much deeper than you think and that it can scarily form how you view the world. Returning to body image in an advert, the companies that produce the ads use good looking actors because they don't want the actor to reflect badly on the product. This is understandable but since every advert does this, it means that every advert has abnormally attractive people featured. Since advertisements are everywhere we go, it can seem that you are the outcast – a person much plainer than you actually are and you develop a high opinion of what people should look like so it is easier to judge others unfairly. Advertisements tell us who we are and how we should be. What does advertising say about women? It says that what is most important about women is how they look. Adverts surround people with this concept so we all learn how important it is for women to be beautiful and exactly what it takes. It teaches women that it takes time and money to achieve this ideal and drives people to feel ashamed or guilty when they fail. But everyone will feel because the ideal is based on flawlessness which even models don't have. And advertising also affects men; it teaches them that masculinity is linked with violence – mostly towards women. So how can anyone argue that advertising isn't too prevalent if it shapes how you think and how you see others? Maybe next time you see an advert, consider the effect it has on yourself before rushing out to buy the product, because I certainly won't be wasting my money if it causes such hassle.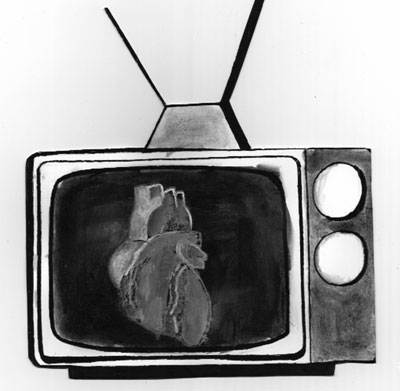 © Brooke S., Indianapolis, IN