Why People Follow Trends
January 30, 2012
It's been something that we've been doing for a long, long time. Following. It's not just something people do on "Twitter", it's a real fashion trend. Every-one's got the latest cell phone, every-one's wearing the latest shoes; but what happens to the girl or guy who ISN'T wearing them. Who CAN'T afford a new cell phone; do they get to be popular, liked and spoken to? No, because they aren't with the cool crew. They aren't worthy of your time, breath or patience. Now I'm going to tell you what it's like to be the girl or guy who DOESN'T have everything. This story is NOT true, but it really happens. Please enjoy!

Monday.

Today, Emma's brought some new trainers. They're so cool; and she said they cost a bomb! $50! I wish Mum would let me have some. I haven't asked her yet, but the answer will be no. I just know it! Last time everyone brought these new hoodies, I didn't get them, because Mum doesn't believe in "following fashion trends". It's only me and the nerdy kid Rupert who haven't go them. Mum thought I was over reacting about being the only one. She thinks I'm just trying to get some money out of her. She doesn't understand! Why can't I be normal?

Wednesday.

Emma's broken her new cell phone. She said her Fathers going to buy her a new one; the newest in stores. It's got a really good camera in it- and you can download free games onto it. It can even hold up to four thousand minutes of songs. That's what Emma said anyway. I don't know weather she's lying or telling the truth, but she's probably telling the truth. I asked Mum when she'll let me buy my own Cell Phone, but she put it off by changing the subject and talking about my Studying. Another thing I can't have.

Thursday.

Emma DID get the new cell phone. She's been flashing it in people's faces all day. Her friends have decided they're going to get the same one; in fact, most people said they'd already asked for it. And it's nearly my birthday. I could ask my Dad for one. He lives in Canada, and every birthday he sends be a super cool jacket- but Emma doesn't think so. She says it makes me look like a circus clown, and she pulled it- she almost ripped it. I was so upset; but what did I expect? It's pink and glittery- Emma wouldn't like that AT ALL. I wish I was normal. I wish I was... I wish, I wish, I wish...

Do you understand yet? Maybe now we'll think twice about the people who haven't got everything.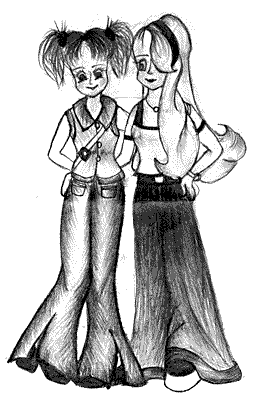 © Na L., Flushing, NY