Buckle Jeans
February 1, 2012
A mans best friend is his dog. A woman's best friend is her diamonds. So what is a teenage guys best friend? Is it his actual friends? Is it his hand? Or is it his puppy? What about a teenage girls best friend? Is it her best friends? Ha, yeah right girls hate each other. It cant be her jewelry either, because unless her daddy is a rich man who spoils her, her jewelry is most likely from Claire's. It could quite possibly be her phone? No, no ,no, these are no where close to a girls best friend. A young ladies best friend is her Buckle jeans.

For those of you living in the dark, and have no idea what Buckle jeans are, I pity you. Buckle is a store in most malls, The clothes are outrageous, covered in lace, fur, rhinestones, and whatever else designers can sew to clothes these days. It is the most amazing store that has ever existed! Like most stores though there are a few down falls to Buckle.
Downfall 1: The clothes run a bit large, I think the store is made for MILF's.
Downfall 2: Everything is expensive, ($100 jeans).

But, only 2 downfalls is not a bad thing for this marvelous store. The smallest size at Buckle for jeans is size 23 (my favorite number?). Twenty-threes only run in one style of Buckle jeans though, the plus side to that is, they are the cheapest in the store, yay for me!

Buckle jeans fit you perfectly in all the right places too. They are tight around the waist, this makes it perfect for when you wear a tight shirt, a bulky belt wont be showing under your shirt. They are stretchy in the thy areas, this means you can get your pants all the way pulled up to your waits. Crack doesn't kill in these jeans. Lastly, they are long. Flood pants are the worst, in my opinion id rather have my jeans soaked at the bottom because of the flood. Who cares if your legs get wet and cold? Beauty is pain ladies.

I don't want to throw any other stores under the bus but, Hollister could learn a few things from buckle. Hollister has jeans that are $70 too, which probably take $5 to make. Don't get me wrong I love Hollister, my entire wardrobe consists of that store, but with those jeans I feel guilty that I spent so much on crap with about 50 holes already in them. By the way I love ripped jeans too. I am a dancer, I love to go to dances, I love to dance any time I even hear music, but when I'm wearing Hollister jeans I cant even move my legs. Not to mention my butt is stuffed in there so tight I cant even bend over the slightest bit. Hollister jeans are adorable but no bodies were made to fit in them. Buckle jeans on the other hand are stretchy and tight and thick in all the right ways. I can dance forever in those jeans. Also, you can wear them more than once before washing.

Ladies, if you don't own a pair of buckle jeans I suggest you save up the money to go buy yourself a pair, they will become your new best friend. Especially if you have no curves, the jeans will lie for you and say that you do! There are always rhinestones on the back pockets of Buckle jeans also, so they are like diamonds in training. I guess the saying is true, diamonds are a woman's best friend.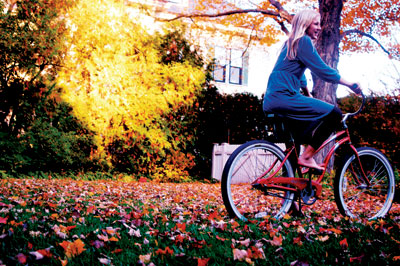 © Emma H., Exeter, NH