Markie and Me
September 25, 2011
So. I'm sitting at my computer looking through the list of suggested options for something that I feel strongly enough about to write. Legalization of Marijuana. Birth Control. Tax Cuts. Art and Music in Public Schools. Gay Rights…

The list goes on and on.

I figure I must be an unfeeling, unemotional person who doesn't give a crap about half this stuff (more than half of it, if I'm being honest) when my eye floats over Social Networking Sites. Now, I'm definitely not some passionate activist who's planning on torching Mark Zuckerberg's seven million dollar Silicon Valley baby. Who he is and how he spends his money is of no interest to me. However, what is of interest to me is my time, and how it's spent. Selfish, I know. I care more about myself than Mark Zuckerberg. But somehow, I get the feeling that Markie won't be doing me any favors in the future. Why? Because I am not one of the 800 million people who possess a Facebook.

Part of me enjoys being a rebel of sorts. It makes for swell table talk (You don't have a Facebook? You must exercise phenomenal self control…), and I think that it's a plus for colleges, seeing as I just read that over 85% of them see screening social networking profiles as a top priority when admitting students. But part of me regrets it a lot of the time. A lot. I'm well aware of how much I miss on Facebook, how many things I must be left out of because I'm never 'in the loop'. That attractive icy blue screen has never graced my Dell monitor, and I guess part of me is apprehensive about the distraction it will bring. I constantly hear stories from friends about how they wasted three and a half hours on Facebook (doing what? It's one of life's mysteries…) when they should have been doing homework. I figure I'm distracted enough as it is, so why push that with a site that will give me access to places where the sun don't shine on every single person I've ever had the fortune (or misfortune) to come into contact with? Truth be told, I don't care about enough people to want to be able to reach them at a moment's notice. I have excellent friends who keep me posted on anything I might need to know, and if I need someone for something, I email or text. I know, old fashioned and slow. But at least there's no chance of someone posting a picture of me doing something really gross so that the places where the sun don't shine on me are suddenly, uh, shining.

But let me be perfectly clear. I am never, and will never be, an inappropriate or perverse, poor excuse of a human being. I forget to email my mother back on an hourly basis, but I made her brownies when she had foot surgery. I yell at my little sister by the minute, but keep the 'I love you' sticker she made for me tucked inside my laptop case. I have the innate ability to forget everyone I know's birthday, but I can throw one hell of a party for them a week later. And even if I'm not up for talking to my Dad, which is often, I'm always up for an episode of The Practice, or Iron Chef America. So Facebook will never become my outlet for anything naughty that I've done. I don't drink, I don't smoke, and I don't vote (yet). But being a teen in modern day America is difficult, and still another part of me is afraid that I might one day show a lapse in judgment and, were I to get a Facebook, post something that I would one day regret.

My English teacher announced on Friday that she will be forming a Facebook group where we can upload our homework and other assignments, as well as discuss with each other any questions or concerns we might have. My AP World History teacher has already invited my class into a group where we can study together before tests and work simultaneously on projects. And my parents are planning to sit down with me today to try to convince me to get a Facebook. How crazy is that? They're asking me, their teenage (sometimes) basket case of a daughter, to get a Facebook.

But I've seen what can happen on Facebook. People have an icy blue mask to hide behind, that they feel is as thick as the sheet of ice that will soon cover our community pool. People can be mean on Facebook. And as for me, I'm perfectly happy emailing those who check their email, and texting those who still remember they have phones. I'm perfectly happy knowing who I'm communicating with. And as for Facebook, I'm perfectly happy not knowing.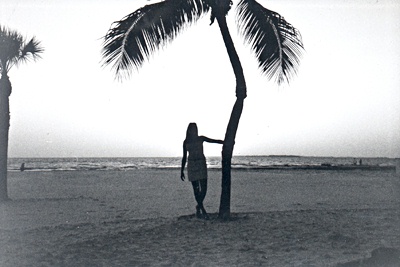 © Kim B., Marblehead, MA