"Love" In Today's Pop Culture
May 6, 2011
We've all heard music in today's pop culture and are intrigued by what's happening with movie stars and such when it comes to the media. You can't say, "Baby" (in reference to the Justin Bieber song) without practically every teenage girl in that particular room bouncing up and down and squealing. So, why do I think it's a topic worth issuing concerns about, you ask?
Everywhere you turn, you hear young pop artists sing about love, you turn to see a magazine where the cover is probably about a celebrity teenage couple with the headline, "Is it love?" or something of that nature, but it's all in good fun, right? Actually no!
The word "love" in today's pop culture is destructive and unrealistic. Not only is it unrealistic, it's being used incorrectly and it's being geared towards teenagers, which, let's face it, aren't emotionally mature enough for love.
Music is a prime example of this particular topic because certain songs evoke strong feelings.
As mentioned above, let's use Justin Bieber's (overplayed and irritating) hit song, "Baby" as an example. In this song, Justin Bieber uses the words, "First love" several times, and when that gets old, there's a rap part by 50 Cent where he says stuff like he met his "first love" when he was 13, which honestly, wouldn't be love. At best, that's a crush, 50 Cent!
Then he goes on to talk about how he likes spending time with this girl and seeing her on the playground.
Seriously, Justin Bieber? No sane person that listens to the lyrics of music is going to take you seriously as a singer if you are always making things sound so infantile. Perhaps if you had swapped in the word "park" for "playground" it wouldn't make you sound like a little toddler.
Another song that gets on my nerves for a couple of reasons is Teenage Dream.
In this song, there's a part of the song where Katy Perry says, "Let's go all the way tonight. No regrets, just love."
First of all, that sounds an awful lot like sex to me. Second, it's kind of foolish to title a song "Teenage Dream" and then very blatantly add in a part of that song about having sex. Most of the time, when teenagers have sex (which 46% of teens do according to childtrendsdatabank.org) it's not protected sex, which could lead to pregnancy, STD's, depression and suicide.
So, that's kind of careless.

Another song that is unrealistic is Miranda Cosgrove's song, "Kissin' U."
There are a couple problems with this song. One of the lyrics is, "When I'm kissin' you, my senses come alive." This just sounds a lot like hormones. Come on, we're teenagers; let's not act like we don't have an overload of hormones surging through our bodies. The other thing that is irritating about this song is the title and the overall theme. It's kind of shallow and gives teenagers the idea that constant physical contact is how you feel love. I myself have never been in love, but this idea is definitely untrue. Even though I've never been in love, it should be that when you are in love, just seeing that special someone from across room would be enough to bring you an unbelievable feeling of joy and you don't always have to be with them or kissing them to get that feeling.

The mere fact that pop culture and media has such an affect on teenagers is a little bit scary and hopefully pop culture celebrities will someday do their part to change this confusion between loving someone and really liking or wanting someone.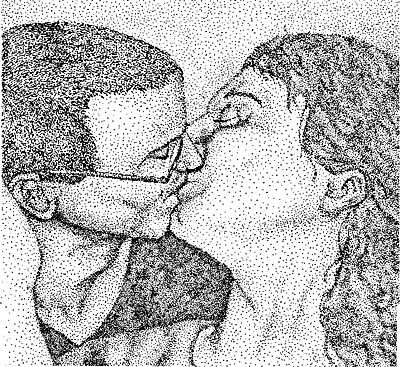 © Amanda H., Rogers, MN