What are kids spending most of their time on today?
April 12, 2011
Angry Birds and Words with Friends: Who hasn't heard of these games? In every hallway, around every corner, at every break, the gossip bubble is full of chitchat on how to beat your opponent and proceed to the next level. Video games that can be played on numerous types of technology, Angry Birds and Words with Friends have become the new Farmville; which is played on Facebook. Almost every teenager is talking about, texting, blogging, tweeting, or updating their Facebook status to their screen name in regards to Words with Friends, or how their "life is complete with Angry Birds", freshman Karly posts. I predict that this is just the beginning of this type of technology issue, as technology is only going to become more advanced, leading to the ability to access more distractions on your cell phone.

These two specific games have become an addiction to many high school students, as versing other students or beating new levels has occupied vital time students should be spending on schoolwork. Angry Birds is an electronic, video game that can be uploaded as an app, free of charge to computers, cell phones, or many Apple products. The instructions listed on the iTunes website is to "dish out revenge on the green pigs who stole the Birds' eggs." To advance to the next level, you must strike all of the green pigs by sling-shooting birds' eggs into the towers of wood and pigs. A longtime friend, Jasmine, claims, "Angry Birds took the place of my boyfriend." Angry Birds has clearly taken over teenagers' free time leaving little to no time for schoolwork. The main problem of this issue lies within the fact that you can download these games straight to your cell phone, which creates a constant distraction that follows students all day: in school and when they are at home. It's shocking how video games, such as Angry Birds and Words with Friends have become such a high priority in some teenagers' lives.

Words with Friends has also left a small amount of time for schoolwork to be accomplished. Words with Friends is also an electronic, video game that can be downloaded from the iTunes App Store for free. High school junior MaCall admits, "Words with Friends is my life." Players can challenge each other at a game of Scrabble by connecting to each other by using their screen names. Each player takes its turn by forming a word out of the letters they are randomly given.

Overall, both games can be considered an addiction to teenagers. Having access to video games on cell phones today has become quite a distraction in teenagers doing their homework or paying attention in class. These two games Angry Birds and Words with Friends are the new popular games that distract students' time from their studies; showing how popular one of these games are, Angry Birds is currently ranked number two on the top 25 apps listed in the App Store. Some teenagers say that these games are so addicting, they end up playing them in class. Sadly, this issue is only going to become worse as technology advances.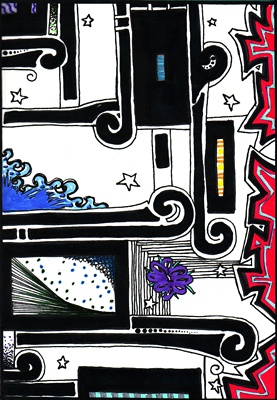 © Jessica D., Burke, VA