My outfit explained
December 29, 2010
Teal nail polish covers my impossible stubby finger nails. The blue shade reminds me of the ocean, that I love so much.
Two silver stud earrings, in each ear, because that's all I could find when I pierced my own ears.
My necklace was a gift from my brother, who I haven't seen in years. Wearing it reminds me of him and in a way it feels as though he is with me, with his advice and wisdom.
My other long silver necklace is a half heart shape with my boyfriends initializes engraved in it. It was a present from my boyfriend; he got it at the county fair last month. It hangs low over my shirt as a reminder of our love and the good times we have had together.
The flip flops, that I wear year- round, are comfortable and practical. They have the impression of my feet pressed into them from so many long hours of wear and tear.
The anklet I have worn for years was a present from my friend, one summer.
My hand painted, vintage ring, was given to me by my grandmother.
My plain old blue jeans have a rip in the knee of them, from kneeling on a nail, and the jeans are worn thin in parts from hard work.
My shirt, is tie dyed; pink, orange and red. It hangs off of one should, the way I cut it.
This is what my outfit says about me so why not be creative with what you wear and surround yourself with items that have some meaning; things that represent memories or loved ones. Don't just walk around with the name of your favorite store displayed prominently across your chest like a walking billboard with plain blue jeans and Ugg boots. I bet I can name 10 other people who are wearing the same outfit.
So don't be the kid who looks like an Abercrombie model or like they just bought clothes straight off a Hollister mannequin. Next time someone asks you wear you bought your shirt or jewelry be able to say something more creative then "I bought it at the mall last weekend." Try vintage or less popular clothing stores, making your own clothes, or, heaven forbid, you wear an outfit consisting of more than one major brand.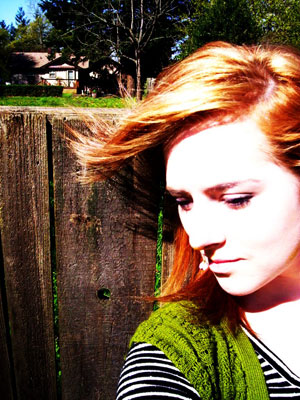 © Anna K., Portland, OR