Teen Body Image
July 2, 2010
Why are there so many teens hating themselves? We are ALL beautiful. We will only ever have one body. You have to look after it and care for it. You have to love yourself before you can expect anyone else to love you. When you pick up that magazine or see that model on the web why do you think that you should be like that? Where did those thoughts come from?

Models spend a lot of their time at the gym or following extremely strict diets. Teenagers should not expect to look like someone who only eats 1000 calories a day. That's just ridicules. A lot of models have had enough and are sick of starving themselves. Take Jessica Gomes for example. Appearing on Sunday Night she talked about the ridicules expectations that the fashion industry have on both woman and men to look a certain way.

The 70's and 80's were full of curvy woman who ate well and looked after themselves, the 10's are now saturated in woman and men who don't eat and spend ridicules hours at the gym. No longer is it normal to have boobs or hips. Which is ridicules. It is apart of being a reproductive human to have hips and boobs. Its like saying ears aren't "what's in" I'll have to pull them off.

Teens shouldn't feel this pressure from anybody. Especially the people they look up to like parents, aunts, uncles, friends, teachers and anyone else that influences them.

Some people are of colour, some have different religious views or like same sex people, some are curvy others have flat chests. All should be accepted and embraced.

Teenagers should be spending their time surrounding themselves with people who care for them and love them. They should be studying what they love, if that's art, music, art or trade. It's hard enough for a teenager to do well at school, spend time with people they love and sleep enough.

Yes, you should exercise and eat well, but you shouldn't push yourself to such an extreme that your harming your body. Why don't you join a football team or start swimming, but don't over do it.

It's hard to live such a balanced life. Teenagers today are pushed so much. It is though we have to juggle everything, as if our whole life is balancing on the point of a triangle and that if something becomes unbalanced everything will crumble along with it. To get through it all, those ups and downs, you have to believe in yourself. Even if it seems that everything is trying to tell you otherwise.

Not everybody is blessed to have what you have. For a start you are lucky to have the Internet access to read this blog, your lucky to be able to go to a tap or the fridge and get some water. Don't ever take what you have for granted. Don't ever think that tomorrow is just another day, it's a new beginning. Don't ever think that you're not worth it. Lastly don't ever think that you have to be like the next person. Express yourself in your own way. SHOW THE WORLD WHO YOU ARE!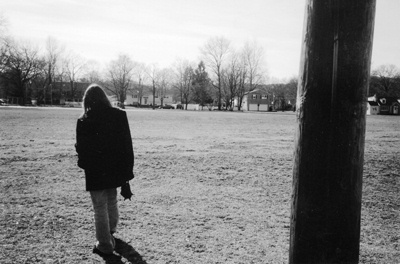 © Rosalie P., Pompton Plains, NJ