The Media and Body Image
April 8, 2010
One arm is strewn above her head seductively. She has such an extraordinarily narrow waist and a magnificent hourglass figure. How many hours did she work out to get those perfectly toned legs? Her face is sun kissed and tan and her lips beckon for more kissing. Strewn all over the billboard on Fifth Avenue, she's gorgeous, carefree and everything about her oozes perfection. Even for a second, looking at her, I believed it. And I agonized in my head why I would never look like her. Maybe I would get a little close…. after a few million-dollar surgeries and a hundred starvation diets, but still never that beautiful. And then I walked away from the billboard, deceived and imperfect.
The media demands perfection, perfect bodies and perfect everything. Everything is fake and photo shopped, oh yes we've heard that, but four out of ten girls will fight a battle with eating disorder before they complete high school.
Most average teenage American girl would relate to this. You pick up any magazine, say Vogue or Seventeen, or go watch any the latest movie, or discuss the latest celebrity gossip with your friends. Afterwards, stand in front of the mirror. If you look carefully, you might notice that your thighs brush together a little too much. Or that your nose is slightly crooked? Your lips could be a little fuller. And oh my, those hips are way too big. Hmm, maybe your ears are fat too? Really now?! Why are you thinking these thoughts? Maybe, because someone put it in your head?
One nose job after another, that model's nose is still slightly crooked forever in her head. As much as she keeps up with that Botox, wrinkles will come for that A-list actress. Maybe that beautiful model that made me agonize and diet for a while looks at her body with the same disgusted look in the mirror. If it is true that once you have a "perfect" body and face, you will be happy forever, how come we don't see pure unadulterated happiness reflecting through the eyes and life of America's most beautiful people? The media seems to try to tell us that we can achieve happiness and perfection through our body image. However, what they've failed to see is that even they haven't achieved that.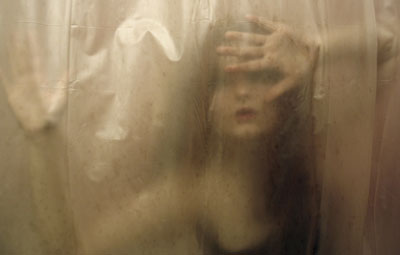 © Emilie E., Tecumseh, OK