Praise for the Breathtaking and Thought-Provoking Film: Isle of Dogs
MAG
May 15, 2018
Isle of Dogs was released March 23, 2018 in the USA after its debut at the Berlin Film Festival. It was directed by Wes Anderson and it's no surprise that it is an absolute work of art, in more ways than one. This stop-motion fantasy/drama film has raked in $31.4 million at the box office and it's not hard to see why:
In Isle of Dogs, he viewer is presented with the struggle of man's best friend when opposing a virus and a powerful political foe. The Canines living in Megasaki City, Japan are quarantined to Trash Island, a place that is just as desolate and dirty as it sounds. A brave and determined 12-year-old named Atari flies across the river to find his bodyguard-dog, Spots. While he's there, he meets a pack of Alpha dogs that aid him on this epic journey. Among the pack are a baseball team mascot, a pet-food commercial spokes dog, an average middle-class house dog, a dog who's prone to gossip, and an edgy stray that claims he wants nothing to do with any human. Meanwhile, back on the mainland, they are being aided by a group of scientists, a school newspaper and headstrong forgone exchange student. Together, they will have to decide either save the dogs of n Megasaki or condemn them.
In terms of production, I've never been more impressed with any stop-motion. Each character is a puppet who is sculpted with a story and a set. There are nearly nine hundred characters: each with many faces, and all of them hand-made. Each puppet has real hair; every stand is punched in individually and must look the same on each of the different puppets. The animators do a beautiful job with everything from intense fight scenes to fleas stirring about as well as fur blowing in the wind. In just about every scenes these puppets star in are different, and each one is more detailed and artistic than anything I've ever seen. On one hand, there's the colorful lively city of Megasaki and on the other there are the barren wastelands of Trash Island. Even amongst the garbage of Trash Island, however, there is a chaotic order; each part of the island is separated into another type of trash. We see our heroes move through piles of multi-colored glass bottles, to mountains of nearly pristine white paper all the way to tons of rusted debris. There is so much movement that happens in this film— from hairs to cars to rats and fleas—it's absolutely mind-boggling.
Isle of Dogs stars an obscene amount of big name celebrities. Personally, I thought it was fun to see bits of the actors come through in the voices of their characters. Jeff Goldblum, the voice of Duke, tosses in humorous little comments here and there that make the film even more enjoyable. Scarlett Johnson, the voice of Nutmeg, is such a powerful actress that you would think that the dog on-screen was actually speaking. The emotions in her voice line up with those on Nutmeg's face so well that it's insane. There isn't enough time to mull over the performance of every actor, but there is enough to list some others that starred in this wonderful movie: Bryan Cranston, Edward Norton, Bob Balaban, Bill Murray, Kunichi Nomura, Greta Gerwig, Frances McDormand, Koyu Rankin, F. Murray Abraham,Yoko Ono and Tilda Swinton.
Wes Anderson, as always, created a beautiful film both visually and emotionally. The detail and underlying yet apparent grittiness made me forget that the story is fictional. Throughout the film there are many different obstacles. While robotic dogs, a government conspiracy, wasabi poison, and starvation may not seem to be related in anyway, there's one thing they all have in common: they were created by fear. Fear is the true villain throughout the story, and it's how the humans are so easily influenced to give up what they love, but the humans that are brave enough to fight back and stand up for what's right still aren't enough: they need help. Finally, the aspect of fear of oneself comes into play. The human characters need the assistance of the dogs, but when they refuse to help due to the fear of what they're capable of (like Chief, the violent stray), the humans lose the help they so desperately need to succeed.
It's part of what makes this film so beautiful; it doesn't point fingers at a group of people or even one person in particular and call them the culprit, they point to ideas supported by frantic emotions. So much of the world today is so hateful and evil; but it's not because people were taught to hate each other and help no one but themselves. It's because we've been taught to fear each other and what we're capable of. Isle of Dogs teaches us that we need to be brave in the face of fear because we need each other's support, but we can't provide that if we're afraid of supporting ourselves.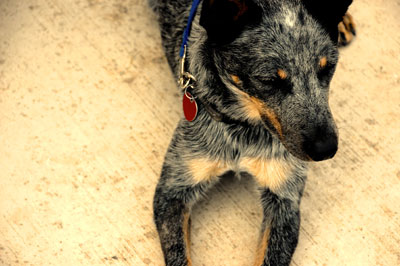 © Chelsea C., Auburndale, FL