Wayfinder, not Princess: Nomenclature Problems in Disney's Moana
December 13, 2016
Disney's latest animated feature film, Moana, has generated widespread critical acclaim for its exposition on ancient Polynesian creation myths. The story of Moana follows its titular character on the odyssey to save her island from natural disaster after the demigod Maui had stolen the greenstone heart of Te Fiti, the Goddess of Creation. Without Te Fiti's heart, there is no more life, and it is up to Moana to restore the order and balance in nature and save her people. What results is a timely, carefully-constructed film that not only teaches the importance of the preservation and healing of the environment, but informs its viewership about the art of wayfinding that is distinct to Polynesian culture. It is significant to mention that, in spite of Disney's overall success, there was a considerable amount skepticism in response to Disney's announcement of the project.
"I was wary," Auli'i Cravalho, the young voice of Moana, confessed. "I think anyone who hears that a movie's going to be inspired by their culture wants it to be done right."
Many Polynesians had voiced similar concerns of misrepresentation, calling into question Disney's capacity to create a story that positively reflects their roots (after the release of Lilo and Stitch in 2002, many native Polynesians bemoaned what seemed like another discordant portrayal of Polynesian culture).
Since then, Cravalho has spoken highly of Disney's attention to the "fine details" of her culture, and it's true: Disney has surprised us by their dedication to creating verisimilitude in Moana, reflected by the Oceanic Story Trust. The Oceanic Story Trust consists of a group of anthropologists, cultural advisers, historians, linguists, and choreographers from islands including Samoa, Tahiti, Mo'orea, and Fiji to help ensure the film would respect the Pacific Islanders and their heritage. Their prolific research gave the film a diverse cultural presence, creating a faithful evocation of place with Samoan headdresses, Tongan traditional clothing, Hawaiian dancing, and Tahitian drumming.
On top of that, it's evident that Disney invested a great deal of thought and care in the telling of Polynesia's wayfinding culture. Ancient settlers leapfrogged from island to island on great double-hulled canoes, starting new societies and spreading an oceanic worldview of exploration. These voyagers were guided by observations of the stars, and similarly rendered in the movie, they were able to expertly find their way over open ocean.
Inundated with praise, Moana was an ostensible hit among audiences worldwide. One might then wonder: what could possibly be awry?
It is this:
When you're telling the story of another culture, it's important to communicate with all the respect and mindfulness it is due. You have a responsibility to write about it thoughtfully, and in the case of Moana, make sure your viewers become conversant with traditional Polynesian culture. To this end, Disney has been largely successful, except for one thing: Moana is still pigeonholed into the "princess" box.
The first time I heard Moana referred to as Disney's first "Polynesian princess," I knew it sounded offbeat and somehow inapt, and yet somehow familiar. It reminded me of the controversial release of Disney's Pocahontas in 1995 as the new "Indian Princess," of which numerous articles were written to criticize the romanticization of colonialism, that is, Pocahontas's title as "princess." I recognized that just as Pocahontas is not a princess, Moana is not a princess.
This label, so unceremoniously wrought upon her, flouts Moana's own political position as the chieftain's daughter. Polynesian leaders were chosen by the community, and beyond hierarchy and bloodlines, real life skills were seen as a distinguished condition of leadership. Therefore, the daughter of a chief was more like the daughter of a mayor, or a governor, than a princess.
To me, failure to recognize this distinction would seem to undermine all the progress Disney has made in preserving cultural authenticity. In order to be inclusive to a culture, one must understand that the political tradition of an area is implicitly linked to culture, and by misrepresenting Moana as a "princess," one misrepresents her culture, too. It is so plainly counteractive to continue the proliferation of Moana's "princess" status, and while most perpetrators are merely ignorant and well-meaning, it is nothing but a left-handed compliment.
I can resoundingly say that while I don't agree with Moana's "princess" tag, this oversight does not preclude any future progress. The media plays a pivotal role in shaping public perception, and as such, it is the responsibilty and moral imperative of the media to inform and inspire truth. As socially responsible citizens, we must make a concerted effort to hold our media accountable. We must learn about the cultures of peoples around the world, and learn to respect them as much as we must strive for tolerance and amity. There is still work to be done, and Moana reminds me of that.
Moana is not a princess.
Moana is the daughter of the village chief, Moana is a Wayfinder, and she is just as regal as she is gritty.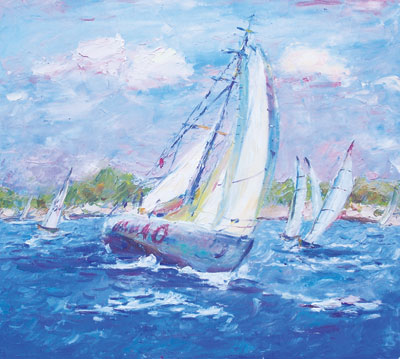 © Xiao H., Naperville, IL