Book to Movie Adaptations
August 19, 2016
Alright, imagine this. You have a certain favorite book that is dear to you. It can be old, recent, written for children, adults, etc. You have been rather attached to this book for a long time, so you are completely stoked when you hear a movie adaptation is coming out.

As more and more information becomes revealed about the movie, you get more and more excited. A promising trailer? Wonderful. It's being directed by a director you personally like? Absolutely fantastic. A great cast, a great soundtrack artist, great graphics…. Everything is awesome, and you are hyped and nearly giddy from anticipation.

This movie is all you're talking about. It hasn't even come out yet, but you claim you know everything about it. You've read the book, and now you're trying to get everyone to read the book. You talk about it so often, a couple of your friends get irritated and say they don't want to be your friends anymore if you're going to keep up your annoying nerdy shtick. You bid them adieu and continue to talk about the movie.

The movie is in theatres, and you get there on the very first day it premieres. (Unfortunately, you couldn't go to the midnight showing because your parents wouldn't let you). You have somehow managed to convince a couple of people to come and watch the movie with you, and you can barely sit down, so your companions have to tell you to calm down. You quiet down, but your movie viewing buddy takes away your soda, just in case. You watch through the trailers, the advertisements, and then, finally, the movie starts.

The movie is horrendous. You just sit there in the chair, completely wide eyed, in what your friends assume to be wonder, but is actually slack jawed horror. How could this have happened? The movie isn't like what you envisioned at all!

You can only watch helplessly as Hollywood takes your beloved story and crams it into a grinder, taking out everything you liked and adding anything they see fit. Did you like the characters? Well, too bad! They're being replaced with cardboard cutouts, and we're adding in a completely unnecessary, convoluted love triangle for good measure! Did you like the book for its original plot? Well, we're going to stuff it full of overdone clichés and cram it down your throat with our award winning actors. And you know what else? We're going to take this book and stretch it out into multiple movies, so that we can reap more profit out of it!

And you know what the best part is? Everyone loves it. You can shout about how wrong it all is, but no one is going to care. You know why? Because it's Hollywood. Hollywood couldn't care less about your opinion. They're too busy exploiting other teens like you to come and watch more and more remakes of the exact same movie, over and over again.

… And this, my friend, is why no one invites me to watch book to movie adaptations anymore.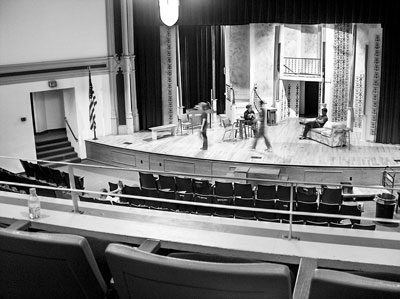 © Sean C., Princeton, IL