This I Believe
October 10, 2012
My head nods along with the beat, my feet tap along with the drums, my hands play the guitar, and I dream on about the future.

Music isn't just something I live with music is what makes me who I am, it is part of me. It is the reason that I have a frown or a smile when I start my day. Country is my favorite and the only genre of music I like because it tells a story I can relate too; country music is the free-down-to-earth-crazy music that I love. It offers me part of myself while promising to show me something I never experienced and that makes it just plain fun. Every song that comes out of the stereo will be stuck in my mind until I learn the lyrics word for word and can sing that song whenever I want. It makes my family so mad – that is part of the reason I do it – that when the radio comes on I can jump right into the middle of the song without even thinking about it. I have this ability to be able to memorize any song and every other one on the radio – it's not my fault that the songs are so catchy. My cousin stared at me once for at least two minutes before she turned to my sister and whispered, " Does she always sing?" " Yes, because she knows the words to all the songs," Samantha whispered back.

When I began to write this essay I had no idea what it would truly be about so I turned on the radio. That's when I realized that I believe music is a powerful force in my life. Music clears my mind of everything else and allows me to think and work. I remember every time I sat down to write, prepared to play a game, studied for a test and put the music on. No amount of silence can help me study like the beat and lyrics of a familiar song. I believe that with the help of music I can shape my life to be something special.

Whenever I am mad I blast my music and sing along – I usually sit on my bed and start day dreaming about what my life would be like in the place the song describes. This one time my mother was being such a demanding tyrant so I went upstairs, slammed the play button, and began shouting out lyrics. The music came out blaring and I sang along eventually calming down. In the same way when I am doing homework I turn my music to background, sit down, and I am able to focus.I don't know why but I am able to use music as my stress reliever it just offers another place to be. My favorite song to turn on when I need focus is "Dirt Road Anthem" by Jason Aldean. The song is loud and full of teenage fun in the south.

Music also shows me what is out there in the world (an underpriviledged child, a dying relative, a night of pure fun by the bonfire, a quiet road to just drive down) that I haven't seen yet. It allows me to escape the world I am in and just forget everything that is going on. I used to hate listening to the teachers go on and on revisiting every point of a lesson, so I ran through the play-list in my head until I found the perfect song and then I zoned out. It happened once in math, I was called on for an answer but instead I blurted out the name of the song I was listening to. My classmates snickered and the teacher asked, "Am I really that boring?" I laughed and explained,"No, but the math is."

I believe that music shapes your life. I personally know that I have dreams to become a doctor in the army because of the song " For You" by Keith Urban, in Act of Valor. It is odd but the South is my fairytale home now just because I have heard so much about it from music and think that I can be free and wild down there even though I grew up in Rhode Island. I even want a big truck so I can go out on the back roads. It's not just listening to a person sing or talk about what they love it's creating that image of yourself in the song and being able to see that as your future.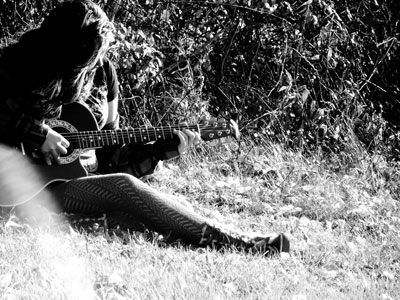 © Chela T., Southampton, NY