Stop Hating on Lana Del Rey
October 3, 2012
Honestly people, why are you wasting your time complaining about her? Sure, her SNL performance wasn't flawless, and she may be no ADELE in vocal range, but you've got to give her some credit: no matter how horrible people and critics say she is, she just rolls with the punches.

Her album is actually pretty freakin' good. If you doubt her by what critics have said, listen to these highlights on her album "Born To Die":
1) Born To Die: the title track is a definite standout on the album. Lyrics about choosing your last words and wanting to make out in the pouring rain show Lana's songwriting skills.
2) Diet Mountain Dew: a bubblegum sounding track with a catchy chorus: "Diet Mountain dew, baby new York City/ Never was there ever a girl so pretty/ do you think we'll be in love forever, do you think we'll be in love?'
3) National Anthem: A mix of rapping and singing and the sound of fireworks opening and closing the song... what more could you ask for? Sweeping orchestra arrangements lead into a hip-hop beat that will leave you with the main theme of the song stuck in your head: "Money is the anthem of success".
4) Radio: A song basically calling out that haters and showing them that she's finally hit the big time; "Not even they can stop me now/ Boy I be flyin over head", "They only love me cause I'm playin on the radio (how do you like me now?)"
5) Summertime Sadness: Now be warned, this song is kind of a downer (I'm sure you could possibly tell by the title). But, like most of Lana's song, it's rich in lyric content, which talks about a lover that has passed. "Kiss me hard before you go/ Summertime sadness".
6) Without You: An ode to lovers in its own ways (like the next track). The opening line and chorus explain it all: "Everything I want I want i have/ Money, notoriety, and riveras" and "I've nothing without you/ all my dreams and all the lights mean nothing if i can't have you".
7) Lucky Ones: Reminds me of the end of a chick flick where they ride off into the sunset. Probably the best song on the album (in my opinion), Lana gives one last hoorah to the young soul mates. "Every now and then the stars align/ boy and girl meet by the great design/ could it be that you and me are the lucky ones?" This song shows off the vocal skills that she really does have. And check out the demo version on YouTube, which includes a heavy beat from pounding drums and a few riffs of the electric guitar. Just search "Lana Del Rey Lucky Ones demo".

So give this badass alt star a try, and you won't regret it (or maybe you will, I don't know you).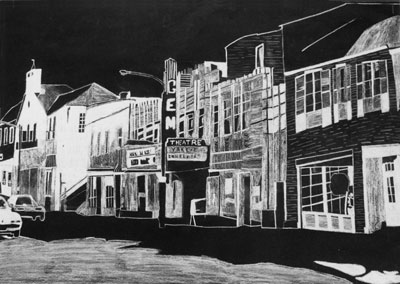 © Chelsea P., Kannapolis, NC