Advertisng - A For & Against Essay
April 3, 2012
Yesterday, the 15th March, it was the International Day for the Consumer's Rights. A day to reflect on this capitalist society we've become - and all thanks for Advertising.
Advertising is lying. It's lying in order to submit.Brainwash is always there: turning on the TV, we're told that possessions will enrich our life. We run to the mall hoping that's true - like as if our credit card is the ticket to happiness.
It looks simple, but Advertising, being the art of lying is far more complicated than that: it trick us in such a seductive way, that we return home with more shopping bags than we anticipated - it's a mermaid's singing that empties our pockets.
If Advertising has benefits? Well, it surely is entertaining
(thank God for those funny commercials while we're zapping). We can also admit that ads set a competition between companies, so they start to improve the product - which only benefits the consumer.
But... how how much do we pay for it? Let's be realistic: Advertising is a religion devoted to lies, and our society has become a naive believer.
We must stop putting faith in Consumerism.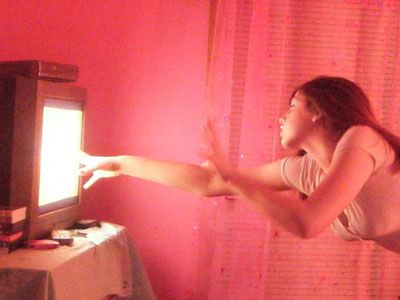 © Emily H., Marshall, MI