Revisiting Titanic
April 13, 2012
For most of us, James Cameron's 1997 film is the basis for our understanding of what happened on April 12, 1912. The newly released, 3-D version of this film isn't so much of a cinematographic renovation as it is a commemoration: a centennial remembrance of tragedy for old and new generations of viewers, priced at 50% more than the usual movie ticket price. For me, seeing Titanic 3-D was an opportunity to tabulate a few points on which this 3-hour film "missed the mark".

First, as a tragedy film, Titanic fails to recount the tragedy of class-based discrimination that occurred on the ship. When the ship began to sink, the call for people to board lifeboats wasn't "Women and children first," but rather, "First class women and children first". Indeed, first class women and children constituted a small percentage of the passengers but a large proportion of the survivors. The women and children in steerage weren't allowed to come on deck until the lifeboats were nearly all departed. As for the ship's crew, their plight was equally alarming. The Italian and French dining staff were locked into their rooms for fear that they would "storm the boats". Sir Cosmo and Lady Duff Gordon testified in a court inquiry that their lifeboat only contained twelve people, and they were accused (albeit cleared of charges) for bribing crew members to not allow steerage passengers onto the boat. Of the 325 First Class passengers on board, as many as 202 survived, compared to the thousands of Third Class passengers who died. That, in itself, is a notable statistic.

Second, we learn almost nothing of the passengers other than Jack and Rose. What were their stories? Why were they going to America? I would have much rather seen a feature film that included more facets of the people on the Titanic. We know nothing about the thousand British, Irish, and Scandinavian immigrants on board, nor do we hear the stories of First Class notables like JJ Astor and his wife Brooke, or Isador and Ida Straus, who we only know as the old couple that died together on the Titanic. We are introduced to "Unsinkable" Molly Brown, but we don't see how she took control of the lifeboat after the ship sank and helped it row onward. It is these true stories that are more worth the telling.

Third, a question that the 1997 film forces me to ask is: how did the ship come to be built, and how did it garner such a reputation of might and force? The story of how Bruce Ismay, the White Star Line's chairman, the naval architect Thomas Andrews, and the American financier J.P. Morgan decided upon "Titanic", a ship to trump Lusitania and Mauretania, is a fascinating one.

Lastly, why didn't Mr. Guggenheim, the millionaire playboy, get to a lifeboat? This again comes back to the reality of discrimination on the Titanic. Mr. Guggenheim was a wealthy, white, First Class passenger, but a recently discovered photograph shows that his valet, Victor Giglio, was mix-raced. Giglio wasn't allowed on a lifeboat, and Guggenheim decided to accompany him—to death.

Returning back to the merits of Mr. Cameron's film, however, Titanic is a true classic and a breathtaking romance. Anyways, what is it about romanticized tragedy that move us so much? In short, it's a catharsis. We want to hear Celine Dion's "My Heart Will Go On" and think not only of a sinking ship but of the lover that sunk with it. We want to experience the feeling of tragedy without experiencing true, tangible loss. We want the simulation but not the reality.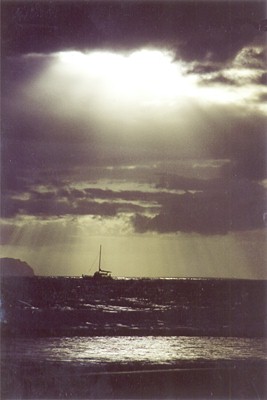 © lily H., Kekaha, HI