Keeping Up With The Kardashians? Not a Chance.
March 19, 2012
For some time now, the Kardashians have been everywhere. They've been on every magazine cover, in every celebrity blog, and all around the news. It seems to be an unspoken rule that everyone must know everything about the Kardashians at all times. Most of us have grown accustomed to this, whether we're fans or not. While they've had a hit TV show, Keeping Up With the Kardashians, for years now, it was only recently that I took the time to check it out. To say the least, It was time well wasted. Between its lousy quality and disturbing messages, I can legitimately say this is the worst show I've ever had the displeasure of watching.

The first scene in the first episode basically sums up the deepest theme in this series. The oh-so nurturing mother looks at her daughter, Kim, and says to the rest of her family, "I think she has a little junk in the trunk. She's like got the jiggles." Great mom, huh? Not exactly. Kris Jenner, mother of 6 – Kourtney, Khloe, Kim, Rob, Kendall, and Kylie – is a perfect example of everything a mother should not be. She allows her preteen daughter, Kylie, to be filmed while working a stripper pole, pressures her children into getting plastic surgery, and all but forces Kim to pose for Playboy.

Another major turnoff was the obvious scripting. Most reality TV shows have some sort of script or plan, but I have never seen one as horribly concealed as in Keeping Up With the Kardashians. Every single scene was very clearly prearranged, which didn't seem to fit the Kardashians' acting style. Either the Kardashians find anger and disappointment to be two of the most hilarious things on earth, or their talent levels are so low they can't even manage to keep a straight face.

Speaking of talent, where exactly is it hiding in this family? Did I miss something? Because, from the episodes I saw and the articles I read, their best skills lie in the business of scheming. That is, scheming up ways to get a cover story in the next People magazine, or how to earn $18 million off of a wedding. Poor Kim, her multi-million dollar marriage ended up lasting a measly 72 days. Was it all an elaborate plot to earn more fame and money? It sure wouldn't surprise me. It seems the Kardashians will stop at nothing to gain notoriety. The fact of the matter is, they are famous for wanting to be famous.

I would not wish this show on anyone. Kids would get the wrong ideas about being successful – from body image to good values – and adults (specifically parents) might be so shocked at how irresponsible parents can be that they'd start screaming at their television set. You can assume I won't be tuning into this family of humanized Bratz? dolls anytime soon, and I can only hope you'll regard my warning.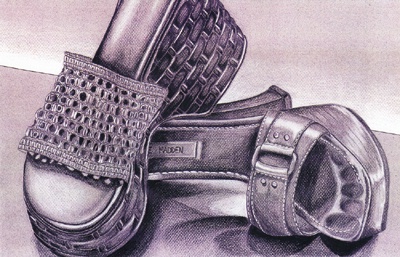 © Edjan C., Jamaica, NY