Performence of Excellence
March 14, 2012
The stage wasn't even close to being empty, but yet, to me, it felt like it was. The spotlight was gleaming down onto my music, allowing me to hardly see my music. I was front and center of the audience, reaching my nerves to maximum. As the conductor lifted his arms above his head, I knew it was time to begin.


I lifted my instrument, the oboe, in preparation to perform. The oboe isn't a common-known instrument, I struggle to help myself stand out. I need to exceed amongst my fellow peers, but the average person among many makes it impossible. As I heard the first notes play in the piece, I joined and exceeded in playing my part.


My eyes were gliding across the paper, playing notes that disappeared within the band. The classical musical performance, like most, got more and more ambitious forcing myself to play with greater power. As the music gained momentum, every note was accented was compelling , the music was a bombardment of strength upon the audience, and at last! The piece was done, the performance has ended. I dropped my instrument upon my lap, and allowed the audience to clap in my favor.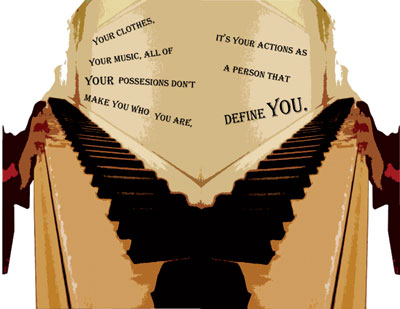 © Brad F., Stewartville, MN