Top 7 Things That Made People Love Twilight...
June 13, 2010
Yes, I have read the series. Yes, I was initially a fan, but not of the films. I might seem like a hypocrite by saying it sucks, but I am referring to the movie, not the books. I have written a couple fan fictions for it.

Now before you read this, if you are an obsessed Twilight fan, you might hate me. But if you're not, then you might understand what I'm saying. Don't say I didn't warn you…

Now, on to the list…

1.) The movie.

I watched the movie first before reading the books and quite frankly, never in my life thought I'd be reading them, so I let my friend tell me what happens in the series. I've seen the movie more than once, I admit, but I never thought of it as "great." Honestly, it doesn't deserve to have the "Best Movie of the Year" award (Yeah, thanks a lot, MTV, for even nominating it), but it won, anyway. But it has a HUGE fan base, so we can't really do anything about it, can we?

I'm not trying to offend any Twilight movie fans there, but I'm just stating what I think is true. Plus, I didn't like the gothic-like cinematography of the first film. And they need better casting.

2.) Robert Pattinson

In my opinion, he's not that hot. In Harry Potter and the Goblet of Fire, I thought he was pretty cute but when he appeared in Twilight with a very pale complexion and the camera zooming up on his face, I don't think he's the right Edward.

Sure, in interviews he's funny and all, but acting? I don't think he's that good or even close to Edward. I think I would've enjoyed New Moon if they changed the leads.

3.) The books

I'll admit, the books were addicting. Yeah, WERE. I used to like them and I just read The Second Short Life of Bree Tanner online, which I found a bit…I don't know how to put it in words.

I guess what I'm saying is that I got sick of them. Yeah, I'm still curious about the turn out of the upcoming movies, but I can assure you that the Bree Tanner book will be the last Twilight-related thing I'll ever read…

4.) Vampires are back!

Twilight sparked off the vampire-craze again. But really, vampires are about blood and killing, so where is it? Instead they also sparked a vampire/human romance.

It also irritates me when people comment something like, "Oooh, True Blood copied Twilight" or "WTF is with Vampire Diaries? They can kiss Twilight's ass." *disappointed sigh.*

Seriously, people, True Blood aired before Twilight. It is NOT an adult version of it, like this one Youtube video said, because unlike Twilight, vampires don't sparkle or not sleep at all. That show is totally badass and if you're mature enough, go see it. I'm only 14 and it's my favorite show.

And about Vampire Diaries…I dunno. I've seen it and I'd give it an 8/10 or 7.5/10. It's not like I can't live without watching it.

Continuing on…

5.) Edward and Bella

People, especially girls, just love romance. Some people actually go overboard with it, for example..

Girl 1: Ohmygod! Edward's totally hot… (How many time do you hear that?!)

Girl 2: Yeah, I just bought Renesmee's locket online.

Girl 1: No way! Where?

Girl 2: Got it on ebay and bid for it. I think it was like twenty bucks…I'm not sure. My mom got it.

Girl 1: You're so lucky. My mom's so cheap. I'm gonna get the Bella ring, though. So I got the DVD and am reading the books again…

Some of these lines were actually said…I had a friend that bought a locket and saw girls in my school that wore Twilight and New Moon shirts. I also saw two math classes and our library that had posters and magnets of Edward and Twilight. I also had a friend that read the series 4 times!!

6.) Love triangle and Teams.

You know what I mean…The more the teams (Team Edward/Jacob/Switzerland…), the more stuff they'll be making (ex. Shirts, clothing line, even underwear…).

And finally…

7.) Shirtless guys…*ehem* I mean, Jacob.

So I'm not a huge fan of Taylor Lautner. Before New Moon even came up, I thought he was really hot then I got over him and really saw what's the glitch…

HE IS NOT A VERY GOOD ACTOR.

Open your eyes people. Really, he can act, sure, but he's just not that good at it. Sorry, Taylor.


So that's it. Well, there's probably more but I can't think of more right now. But those are my top reasons why I think people are so obsessed with Twilight.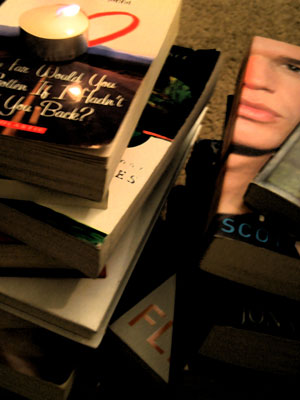 © Alexis R., Clarkdale, AZ