Review of the Netflix Original 'The Chilling Adventures of Sabrina'
May 13, 2019
Searching endlessly through Netflix I can never decide what to watch. One night I finally stumbled upon a show that caught my attention, The Chilling Adventures of Sabrina. Nearly all remember the hit 90's sitcom, Sabrina the Teenage Witch. Originally a comic series introduced by Archie Comics and later animated into Sabrina the Teenage Witch (1970-1974). In 1996, it was readaptated into the show we know and love with actress Melissa Joan Hart; however, today the life of Sabrina has become an American web television series on Netflix with two seasons, renewed for a third.
This occult fiction brings about a new impression of Sabrina Spellman (Kiernan Shipka). In The Chilling Adventures of Sabrina we get the chance to see Sabrina advance her witchcraft skills when she dabbles in necromancy, resurrection, and astral projection.
Shipka, best known for her role of Sally Draper in the American drama Mad Men (2007-2015) gives off a feeling of familiarity, alongside her co-star, Ross Lynch, who most recognize as a singer, songwriter, and actor best known for his role of Austin in the Disney Channel comedy series, Austin & Ally (2011-2016). Together they rid The Chilling Adventures of Sabrina of its sense of perplexity of unknown actors that may be associated with Netflix Originals. This for one helps jump into the show, making Shipka the perfect actress to capture the essence of Sabrina.
The first episode of season one jumps right into Sabrina having to choose to partake in a ritual to fully embrace her family's witch side. Not wanting to leave her mortal friends behind she is torn between the path of light and darkness. Although the cliche good versus evil is something we all expected, the show has a different way of going about telling this story. With new characters and supernatural creatures revealing themselves with each episode, it is easy to engulf yourself with the subplots of Sabrina's father, Edward Spellman, Madam Satan, Sabrina's mortal friends, and even the frenemies she makes at the Academy of Unseen Arts.
Sabrina is pulled from her mortal high school of Baxter High into the Academy of Unseen Arts for witches and warlocks. Continuously challenging the traditions and authority of the High Priest at the Church of Night, the motivations of her journey as a full witch or half-breed are greatly influenced by her father's work. Edward Spellman was High Priest at the Church of Night, his work about mortals and witches being able to live in harmony with each other is one of the central driving factors for Sabrina's sly mischief.
With defining characters in the witch world, like Nick Scratch and the Weird Sisters, it becomes easy for Sabrina to tap into a perverse sense of self. Finally, season two gives viewers a taste of Nick and Sabrina as a duo that has been so desperately awaited. The tension builds and overflows, ultimately resulting in the downfall no one could possible have foreseen. Yet, through all these games of tug of war, Sabrina finds herself. With more questions she prepares to use her powers of both mortal and witch to seek out the answers. The Chilling Adventures of Sabrina holds up to its standards of character development with enough twists to have you searching for answers yourself.
Even with a strong plot, it may be difficult for some shows to capture an audience when the acting is subpar. But, this is not the case for The Chilling Adventures of Sabrina. The casting of Nick Scratch (Gavin Leatherwood), Amberose (Chance Perdomo) , and Prudence (Tati Gabrielle) all come together and truly make each of their characters shine and thier subplots hard to forget. This cast comes together and impowers Sabrina's clash of her immortal world and how quickly she becomes dependant on her witchcraft. So much so, it is hard to see these actors outside of their typical roles in The Chilling Adventures of Sabrina. Although seeing the actors as just these characters may come with its downfalls, for this series it helps hook the audience. Wanting more as soon as the binging is over. Be sure to give this Netflix Original a shot, you'll be in for a real treat.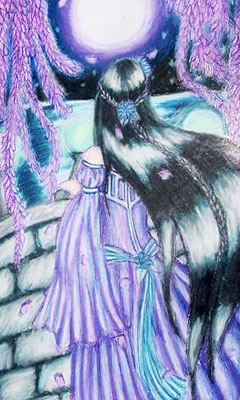 © Kelly K., Fort Collins, CO