The Valuable Lessons That Siblings Teach
April 15, 2018
For as long as I can remember, I've always looked up to my older brother. No matter how old I was, I've always seen myself copying every small thing that he does. I played the video games that he played, I copied his hairstyle, and I ate the type of food that he ate, even if I hadn't actually liked it myself. I've recently come to the realization that I've been unconsciously dressing like my brother as well. He was like a superhero in my eyes. He was a straight A student all throughout high school even while taking the most advanced classes available. He graduated with honors, as well as being the captain of the soccer A team. It's been difficult trying to live up the expectations that were set by my brother, but whether consciously or not, I'll always try to be like him. He motivates me like a rabbit motivates a coyote. To chase until the objective has been met. The coyote's goal being food, while mine is to be as excepcional as my brother, but younger brothers can influence the behavior of older siblings just as much as an older brother can influence a younger sibling. I had a conversation with my brother about his experience growing up with me. He joked with me about how it felt like the world cursed him with having to deal with me, yet he expressed that he was grateful to me, because he understood I would take inspiration from him, so he chose to be his best self. My brother and I have inspired each other to do the best we can. Researchers Cheti Nicoletti and Birgitta Rabe have identified a correlation between a sibling relationship where a younger siblings marks have improved because of an elder sibling. "The younger siblings marks rose 4 percent. The effect was greater among siblings from poorer families, for which each test grade improvement by the older sibling was linked to an 11 percent increase in the younger one's scores" (Nicoletti). Having a sibling is undoubtedly beneficial in terms of improving children's behavior. Not only can siblings affect each other's academics, but they can also positively benefit each other's social behavior as well.

A study done by researchers in the Brigham Young University have displayed results that convey that children with healthy sibling relationships have learned crucial social skills. The study suggests that these children have learned skills such as helping and being able to share with others. They've also learned to deal with conflict and how to resolve them. I bet anyone who has a siblings knows the struggle of having to argue for days with your sibling, but I also bet, that they learn important lessons from every one of their arguments.

It is just ludicrous to say that growing up with a sibling isn't beneficial in terms of improving your demeanor, and your academics.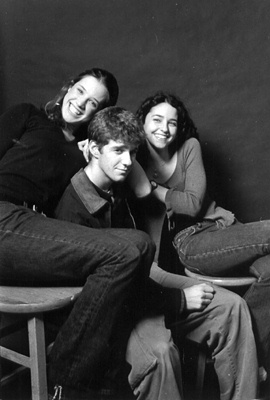 © Samantha F., Marblehead, MA