Sunday, October 6, 2013 10:57 pm
May 3, 2014
Lilly's chatter fills my ears, along with the soft roar that comes with crowds. The Flower Mound Pumpkin Patch is full. Little kids run around with glittery face paint, hay in their hair and bitty pumpkins in their hands.

The musty smell of animals and straw fills the air. A tractor putts by, a trailer hooked on the end full of passengers sitting on scratchy blocks of hay. Lilly takes a few quick video clips as it rolls by us, all the while talking about Mr. Kelly and the government shutdown and homecoming.

Pumpkin patch number two is the exact same thing. Why I chose to do reviews over pumpkin patches, I will never know.

On the ride home, Lilly rambles on about boys and green eyes and her theater improv class, imitating a squid or something. She's easy to tune out. All that I'm required to do is nod or give a 'yeah' or a fake laugh. I feel kinda bad for not listening, but I'm too busy playing my game: looking at all the cars that pass by.

Searching for one car in particular.

At the stoplight by Baskin Robbins, it comes unexpectedly. The white Nissan Altima. Is there the Carmax sticker on the back? Yep. It's him.
He turns right. I see him for half a second. Both hands on the wheel, light reflecting off his rectangle glasses, chin jutted slightly forward. I can almost hear the classic rock that's surely playing on his radio. He's alone in his car.

Then he's gone. He turned right, which means he's not going home or else he would have gone straight.

I wonder where he's going.

Lilly's gone now. The car is quiet. My radio is broken again.

I'm at the stoplight on Waketon and Long Prairie. My window is rolled halfway down and a slight breeze frizzes my hair.

A single, bright orange monarch butterfly loops past my window and up towards the stoplights. Up towards the blue sky.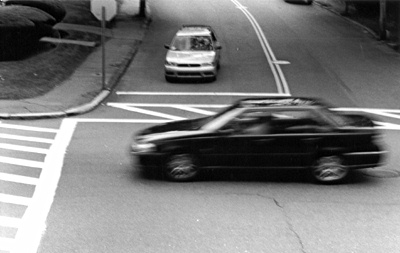 © Ed J., Marblehead, MA