Valentine's Day.
February 5, 2014
Valentine's Day, you either love it or you hate it. Many people hate Valentine's Day, because they view it as a day for couples. That may be what it is intended to celebrate, but that isn't what I will be celebrating or have ever celebrated on Valentine's Day. I celebrate all the people and things that I love; basically I celebrate love in general.
I absolutely love Valentine's Day, it is my favorite holiday. All of my single friends and I are going to watch a major chick flick at the movies and eat frozen yogurt instead of wasting our time with finding valentines and going on stupid awkward dates with them. The only reason I hate couples on Valentine's Day is when my friends bale on me for their clingy dramatic boyfriends. Sure if I had a boyfriend I would probably bale too. (That's not a double standard at all…..*sarcasm*) Call me a hypocrite; I don't care, I'm just telling you how it is.
So this Valentine's Day celebrate love. If you don't have a date, celebrate it with your friends. If you don't have friends, cuddle with your dog. If you don't have a dog…I don't know what to tell you; maybe you could watch chick flicks at home and stuff your face with chocolate and ice cream. That sounds pretty good to me.

Happy Valentine's Day!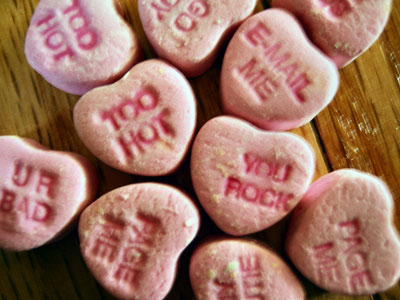 © Valcy E., Stony Point, NY