Being Grateful For Your Grandparents
December 12, 2012
When I am reminded to count my blessings, I often am thankful for the obvious things: having a nice house, food, clothes, a car to drive, good grades, strong athletic ability, friends, and family. But recently, I have discovered something I am extremely grateful for that can often be taken for granted: my grandparents.

Although I didn't get to meet my "Pops," I was blessed with three loving grandparents that I cannot imagine life without. This includes my Gramma, who is ninety, and my Grandma and Pawpaw, who are both eighty. Even though they are older than most teenagers' grandparents, the amount of love they show me is not any less.

None of them are extremely wealthy or have been able to spoil me with lavish gifts and numerous presents, especially around the holidays, but one thing I know they have continued to spoil me with is their love.

Reminiscing on memories made with each of them is what continues to make me smile.

I remember things like coloring, reading, and solving puzzles and word searches with my Gramma, playing Jenga, or pretending to be a waitress, taking her dinner order. And her famous chicken salad, homemade macaroni and cheese, corn sticks, and chocolate meringue pie cannot be forgotten.

I remember things like watching Barney and Caillou with my Pawpaw, going to church on Sundays and eating at Jerry's afterwards, him making me oatmeal for breakfast, falling asleep sitting on his knee, him pushing me on the swing at the park and sharing an Icedream from the Dwarf House after, and singing songs together.

I remember things like playing on the toy that spins at my Grandmas, eating at the Waffle House for breakfast, going shopping, especially at thrift stores, riding the Marta train, and watching her make her famous spaghetti, Chinese food, country fried steak, green beans, and creamed potatoes, and let's not forget the chocolate pudding.

These are only some of the memories I have made, but every one of us, it is important to cherish each and every moment spent together with our grandparents as we don't know when it will be their last.

Continue to let them spoil you to the best of their ability and enjoy the small amount of time you do get to see them.

Take to heart everything they have taught you. The lesson of honoring your parents, using your manners, remaining as optimistic as possible in the good times and bad, enjoying being young, being thankful for all that you have, and placing your faith in the one Savior who is over all.

As your grandparents' health declines, which it will, and in the times that you find yourself becoming sad, remember to smile at the life that they have lived, long or short, the important values they have bestowed upon you, and the various memories you have created with them.

Overflow them with gratitude and make sure they know how much you truly love them. And never forget each and every day to count your blessings, truly being most grateful for your grandparents.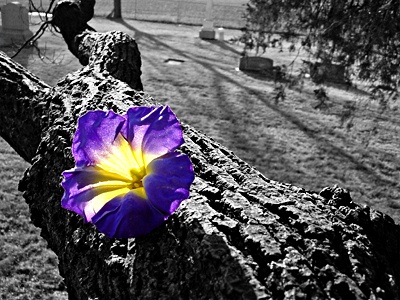 © Greg K., New Lenox, IL