Emmy Lou
November 1, 2012
At twelve years old, my sister, Emily, is already so much more wonderful than any other girl I know. She's outgoing, optimistic, generous, and loving-- traits which make for quite the popular young lady. This Monday was her first week of junior high, and she comes home every day bursting with exclamations like, "The boys here are so much taller than the ones in elementary school!" and, "I love junior high!" The fact that my sweet little sister seems to already have vanquished junior high-- a feat completely impossible to most twelve-year-olds-- would astonish anyone but me. I, unlike the others, fully expected this of Emily.

Thursday night, Emily came into my room beaming.

"What's up, Emmy Lou?" I asked her.

"A boy told me he liked me!" she said, her happiness pouring into the spaces of my room that my homework-induced boredom had filled just moments ago.

"Oh, that's great! Did he tell you at school?"

"No, he texted me."

Although Emily is a lovable, incredible person, one of the reasons why she is so popular is because she is constantly in communication with her friends. Be it Facebook, texting, or talking on the phone, it's hard to catch Emily at a time when she isn't connected to someone else. When I ask her why she needs to be talking to other people so much, she simply says, "People just like to talk to me."

I don't blame them. Emily is a great girl. But I was completely taken aback when I thought about how casually this conversation must have happened between Emily and her boyfriend-to-be. I imagined a few texts sprinkled with smiley-face emoticons and "lol"s, when in reality she was opening up her heart to a new person.

Sure, when I was in seventh grade, like most people, I had my little romances and shy crushes. Thinking back on the experiences, though, I am astonished that no one told me how important it is to remember that while texting a person, or chatting with them on Facebook, is a fun way to get to know someone new, it's important to remember that you aren't really talking. Winky-faces and cute abbreviations, thought they're meant to mimic real emotions and ideas, simply can't replace having a face-to-face conversation.

What happened to the days when teenagers "went steady" and, after a while, they "got hitched"? Now the internet is home to countless dating websites and articles about "How Text Your Crush." Although it's nice to know you'll always be able to text a cute little "Hi! :)" to your sweetheart, we lose the value of a heart-to-heart conversation when we can have one any time, anywhere.

I think my biggest concern for Emily is that she will grow up in a world where the first time a boy tells her he loves her will be in a text. Someone as incredible as Emily deserves someone who isn't afraid to say, "I like you. Will you be my girlfriend?" to her face. When Emily has a daughter who comes home and tells her stories about her day, I want those stories to be about something sweet a boy says to her, not about her latest witty I.M.-banter.

What we need to do as a generation is take a step back, away from our phones, computers and iPods, and look at the people around us. When we do, we'll find the people we can actually connect with and love. We'll go beyond the screens and find the Emilys-- the great, loveable people-- behind the "xoxo"s.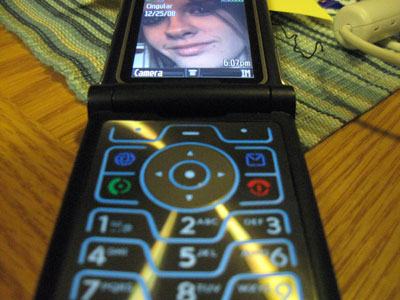 © Adam S., Kingdom City, MO